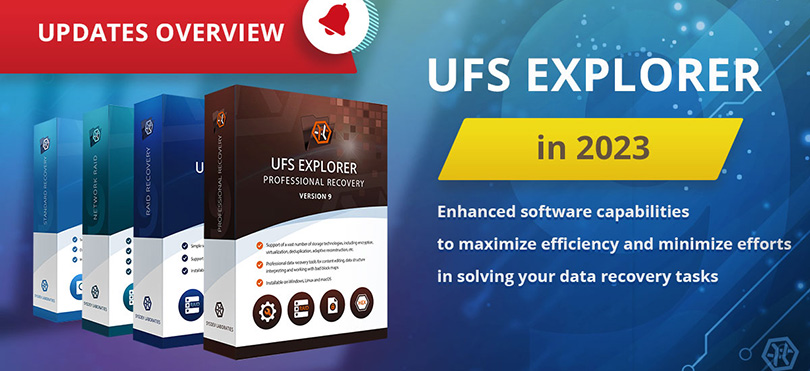 UFS Explorer in 2023: The most notable updates we have seen so far
18.08.2023
As time goes by, UFS Explorer is being constantly developed so as to offer something new on a regular basis and become ever more helpful. And in 2023, SysDev Laboratories continues its quest to make this product the finest remedy to all sorts of logical data loss. Since the beginning of the year, there've been a plenty of new versions of the software, each filled with new features and improvements that bring it forward in the line of popular competitors. So, let's look over the major updates the Standard, RAID, Network RAID and Professional editions of the program have received to provide you with a greater data recovery experience.
All editions of UFS Explorer
Work with common data protection devices
Guaranteeing the safety of information available on the original storage, specialized tools that enable protected read-only access to the medium come immensely useful in many data recovery scenarios. Such appliances are also called write blockers or forensic bridges. They prevent write commands from reaching the drive and thus
avert the risk of any possible modifications to its content, in particular due to actions of the employed OS. Thereby, the data remains unaltered while other commands can easily get through. UFS Explorer has been upgraded to detect and operate in tandem with this type of devices, including ones of the popular OpenText Tableau and CRU WiebeTech product lines.
More file formats supported for preview
The built-in viewer of UFS Explorer now allows displaying the previously unsupported types of files. In addition to several recent digital cameras formats, it can show the contents of certain archives without the need to extract them first – including Zip, TAR, GZip and BZip2. Also, immediate decompression is possible for Deflate, Deflate64, BZip2, LZX, LZMS, LZMA, and Microsoft XPress compression methods. Individual disk image files in the Windows Imaging Format (WIM) can be opened in the software as well.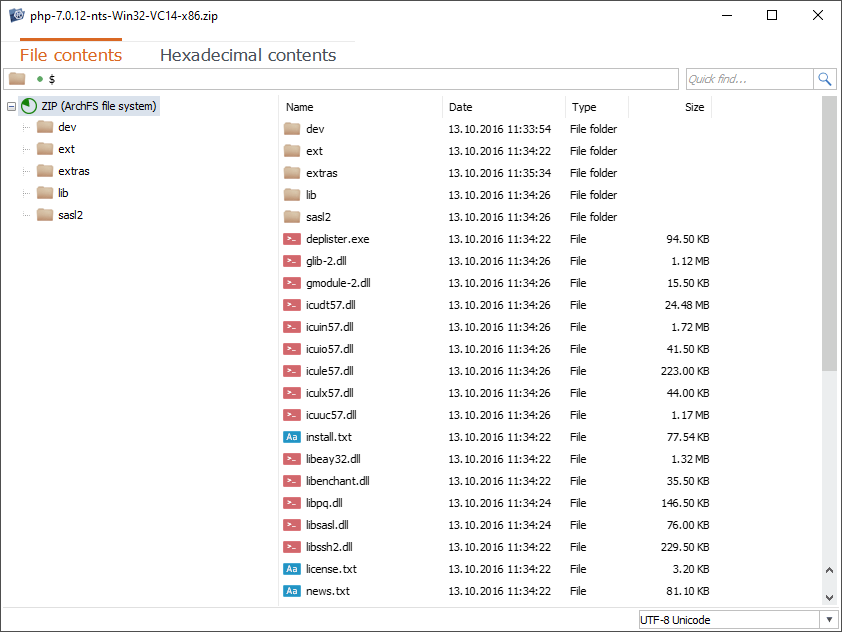 Enhancement of the embedded disk imaging tool
The imaging process has been optimized to handle drives with defects even more efficiently. A new optional preliminary imaging stage allows the software to quickly skip the damaged and hard-to-read areas that significantly slow down the procedure. This way, the imaging of intact regions can be accomplished much faster. Another optional stage is intended to go through the hard-to-read areas while leaving out defective ones, postponing them to the next imaging stage. Such an approach helps to avoid delays caused by problematic locations, making imaging much more speedy. During the final imaging stage, it is now possible to adjust the number of read retries and timeout settings.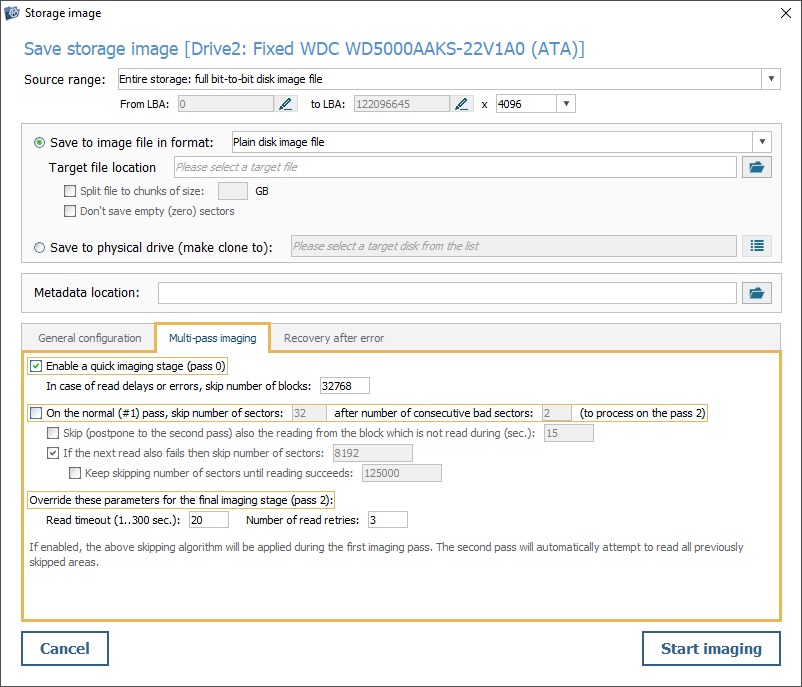 These changes aim to improve flexibility of the imaging process, provide even more control over it and achieve better results when dealing with faulty or unreliable devices. The format of a log produced by the program during imaging has also been altered to make it more suitable for forensic purposes.
Improved processing of various file systems
Users can now expect better performance when dealing with Ext3/Ext4 volumes. The file system journal analysis has become speedier – the software now caches it to memory, which results in much faster operations. The time required to open existing large volumes with Ext3/Ext4 has also been reduced thanks to certain optimizations. The scanning of FAT/FAT32 file systems has been revised to cope with several previously unsupported types of metadata damage, enabling better recovery from corrupted FAT/FAT32 volumes. When scanning HFS+ volumes, the software now relies on the file system journal to provide better reconstruction of lost folder names. Regarding Btrfs, the issues with assembling a multi-component file system and recovery of virtual address space when the virtual address space tree is missing have been successfully resolved. There have also been minor fixes related to such file systems as NTFS, exFAT, ReFS3, XFS, and legacy HFS.
Revisions in the file browser interface
Enhancements have been made to Explorer, the integrated file browser of the software, that are intended to make its interface more informative. The scan results now include information about the number of files found in each folder. With its help, users can get an idea of how many files were retrieved, without having to navigate into each folder individually.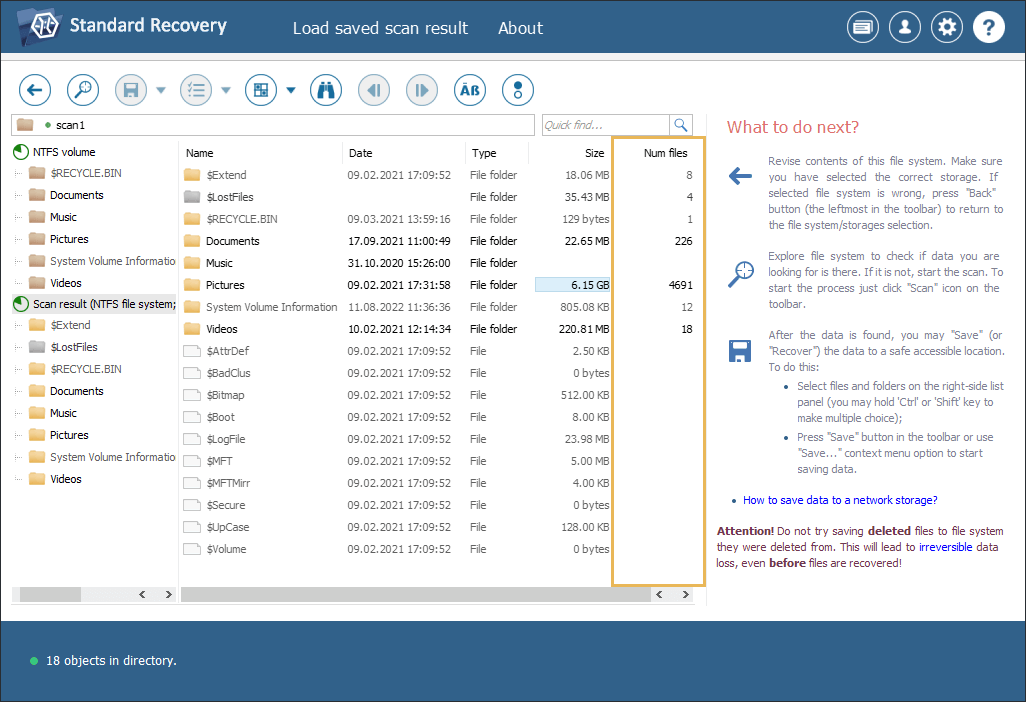 The results obtained using the "File search" tool have received visual indicators, such as colored names and icons. These indicators allow users to quickly identify the state of each discovered file, like whether it has been restored after deletion or possibly got affected by corruption.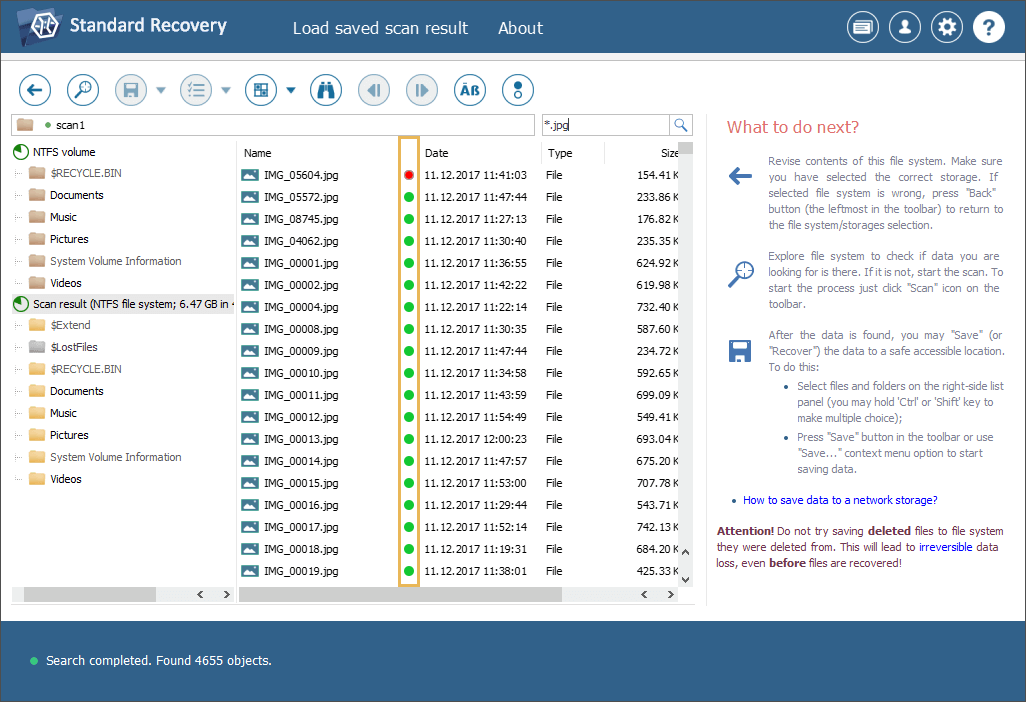 Better interaction with NVMe drives
The updated software is able to identify NVMe-based solid-state devices and access their SMART information when they are attached to the computer via USB adapters or enclosures that use Realtek, Asmedia, and JMicron bridge chips. The embedded SMART monitor can provide the details about the drive's temperature, error rates and other parameters, allowing users to watch the health of their externally connected NVMe storages during data recovery.

Control over the system memory usage
The Windows version of UFS Explorer now includes a new setting that allows users to define the amount of system memory dedicated to file cache. Caching is useful indeed, as it reduces the need to read the same data from the disk repeatedly, which can significantly speed up access to files. Yet, leaving enough free memory may also be important to carry out other tasks. With the added system file cache size setting, users have the ability to limit how much memory the operating system devotes to caching and thus achieve balanced performance.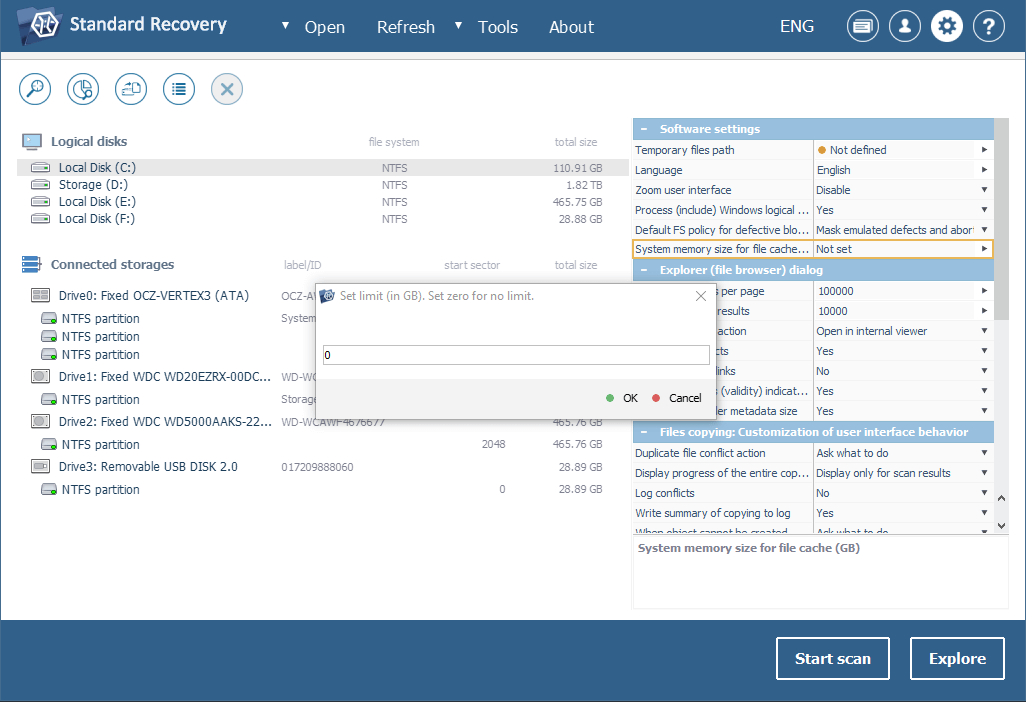 A concise summary of what's new in each version of these products can also be found in their respective changes logs:
UFS Explorer Standard Recovery
UFS Explorer RAID Recovery and UFS Explorer Network RAID
Reading cache for accelerated RAID recovery
The programs now provide the possibility to utilize cache memory for buffering reads from the components of RAID. Thanks to this feature, potential performance improvements can be achieved when restoring files from the array. The benefit is especially noticeable on RAID configurations with a very small stripe size supported on certain RAID controllers. Small stripes, like 4 KB, 8 KB, 16 KB, 32 KB, or 64 KB, induce frequent I/O operations and thus significantly degraded speed of recovery. By using cache memory to buffer the reads, the software can eliminate excessive I/O activity and thus optimize the efficacy of reading.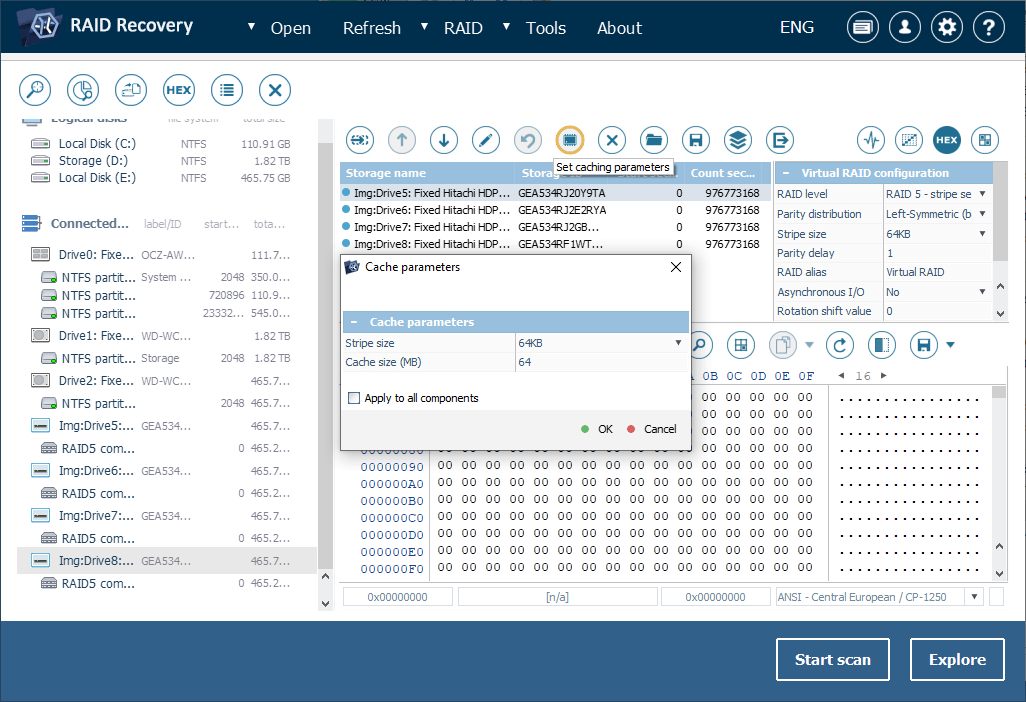 Enhanced recovery from Drobo devices
The software has been tweaked to perform general read and scan operations on Drobo more efficiently, particularly when it comes to non-allocated storage space areas within Drobo BeyondRAID sets. This improves the overall speed of access to data and Drobo recovery in general. Additionally, users with older Drobo DAS units can now benefit from the support for multi-volume setups that are encountered on these legacy devices from Drobo.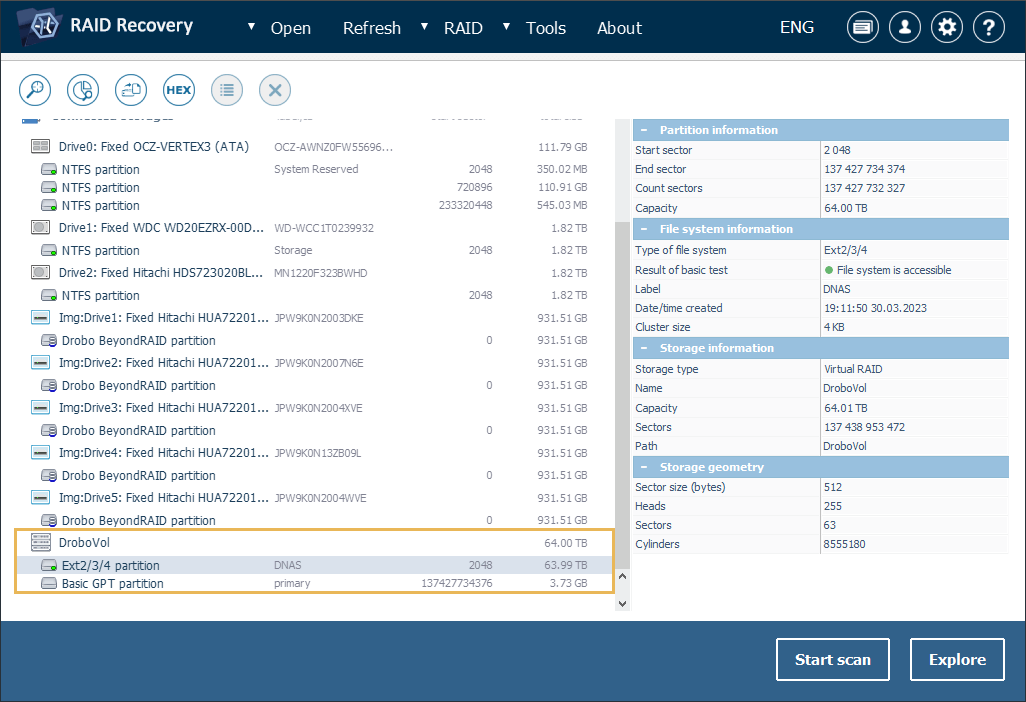 Expanded hardware RAID support
The software now has the ability to work with hardware RAID configurations based on JMicron chipsets. This also applies to devices like extension enclosures of the TR series by QNAP. Such external RAID modules are frequently paired with QNAP NAS to increase its capacity or as an independent direct-attached storage units.Начало формы
UFS Explorer Professional Recovery
Support for Drobo with enabled mSATA cache
Units like Drobo 5D and Drobo 5N may be equipped with an optional mSATA module that is employed for the purposes of Drobo Accelerator Cache. Though not used as a part of the primary BeyondRAID array, this mSATA cache may hold crucial frequently accessed data, like small user files or file system structures. Unexpected malfunctions sometimes prevent this information from being transferred to the main storage, and it simply gets stuck in the cache. The Professional edition of UFS Explorer has been updated to recognize the Drobo cache partition and allows applying the cached data to the reconstructed Drobo BeyondRAID. This way, it is possible to read the resulting storage correctly and thus perform comprehensive Drobo recovery.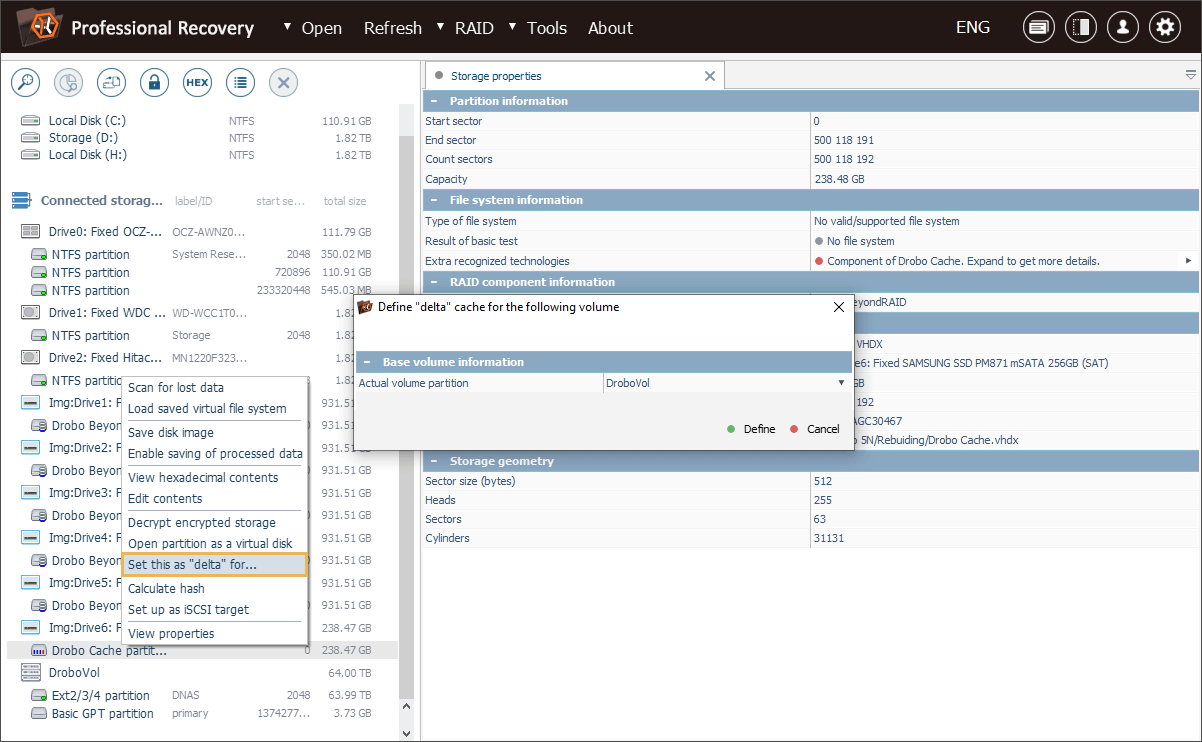 Extended decryption capabilities
The software has been supplemented with the support for specific implementations of LUKS encryption used by LaCie and Western Digital AnyRAID devices. It allows transforming the user password in order to obtain the original cryptographic key and thus unlock the storage.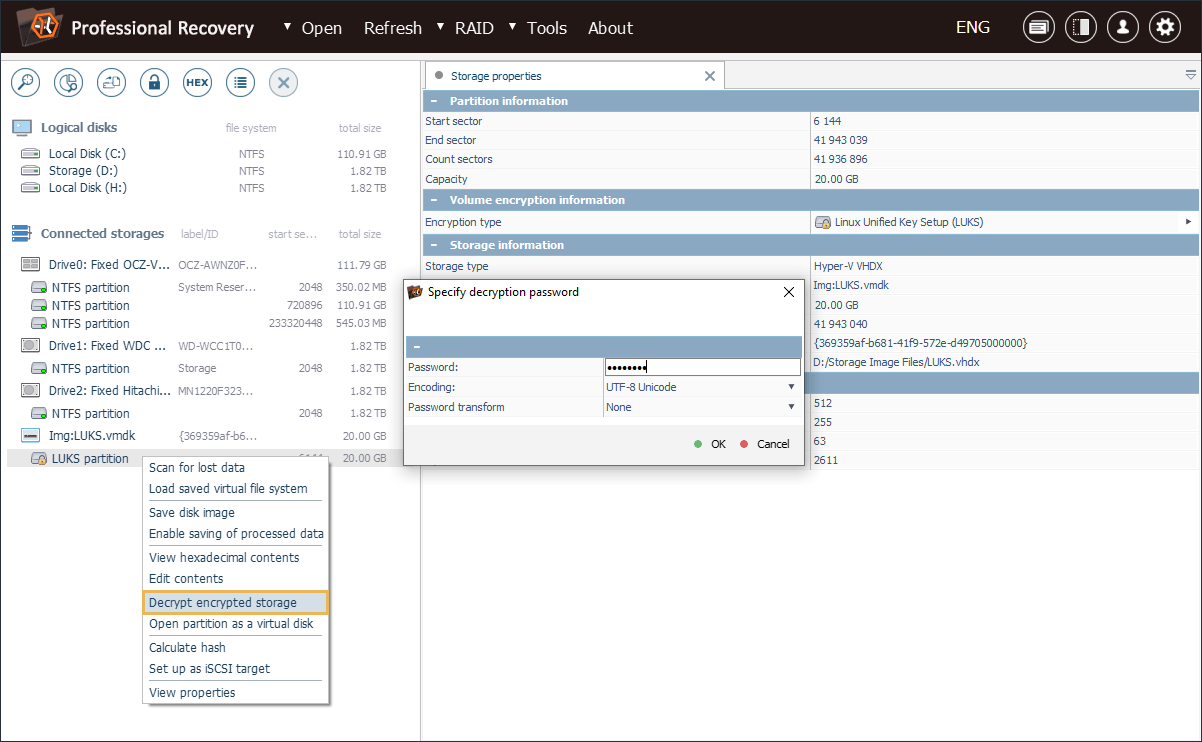 The improvements have also touched upon work with encrypted virtual hard drives of VMware Workstation. Now it is possible to decrypt split *.vmdk files for further access or data recovery in the program. The utility can also extract data from encrypted -delta.vmdk files (child disks) that are used for taking snapshots of an encrypted virtual machine, provided that the correct encryption password is specified.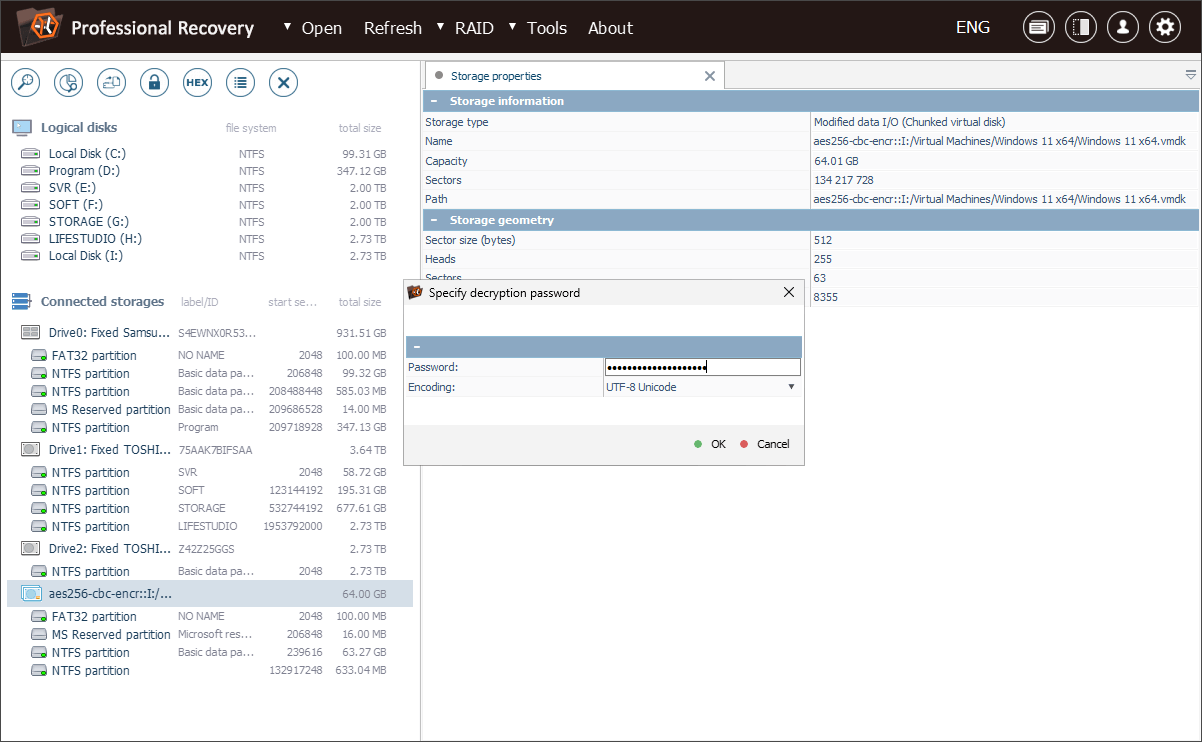 Producing a map of data entropy
The disk imaging tool embedded into the Professional edition has become even more advanced. Now it is able to calculate entropy for the blocks being read from the source drive and provides the resulting values in the form of a convenient entropy map. Such a map can be visualized in real time during imaging and saved for subsequent analysis, together with the statistics. This handy instrument makes it much easier to determine the nature of data in the created image and peculiarities of its distribution across the storage (zero and non-zero blocks, encrypted data, etc.). It is also possible to synchronize the data entropy map with the map of defects for clearer context.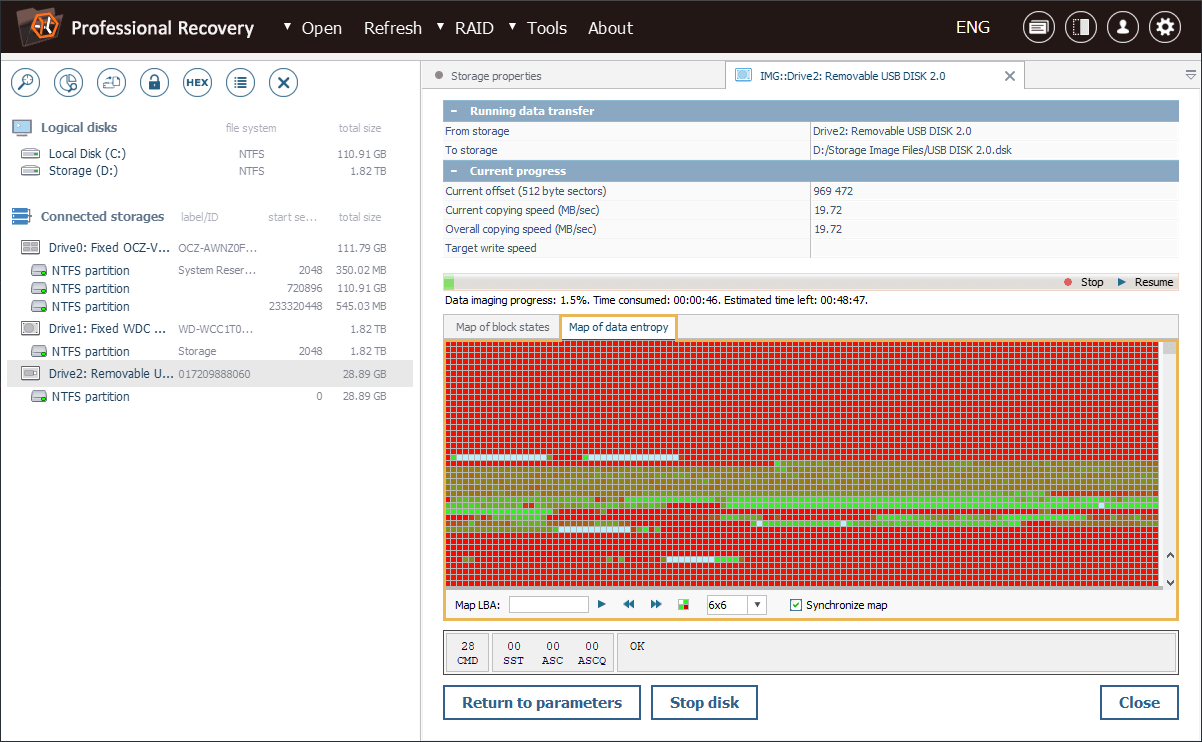 Improvements to the RAID Builder toolkit
The RAID Builder mechanism of the program now offers additional flexibility when creating and managing RAID configurations. A new tool allows users to assemble a new array from a copy of an existing RAID setup. This way, it is much easier to experiment with different layouts without having to start building RAID from scratch.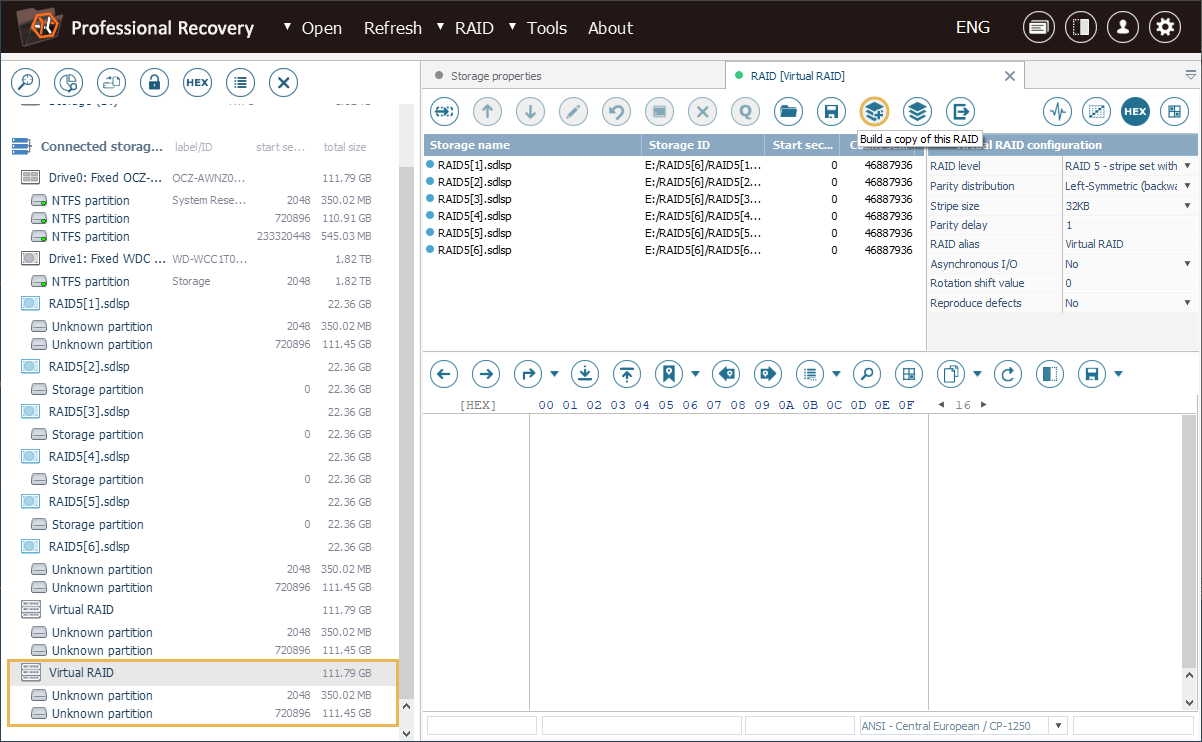 In like manner, when a user selects a number of RAID components in the dialog, another option allows creating a new RAID configuration from the given subset.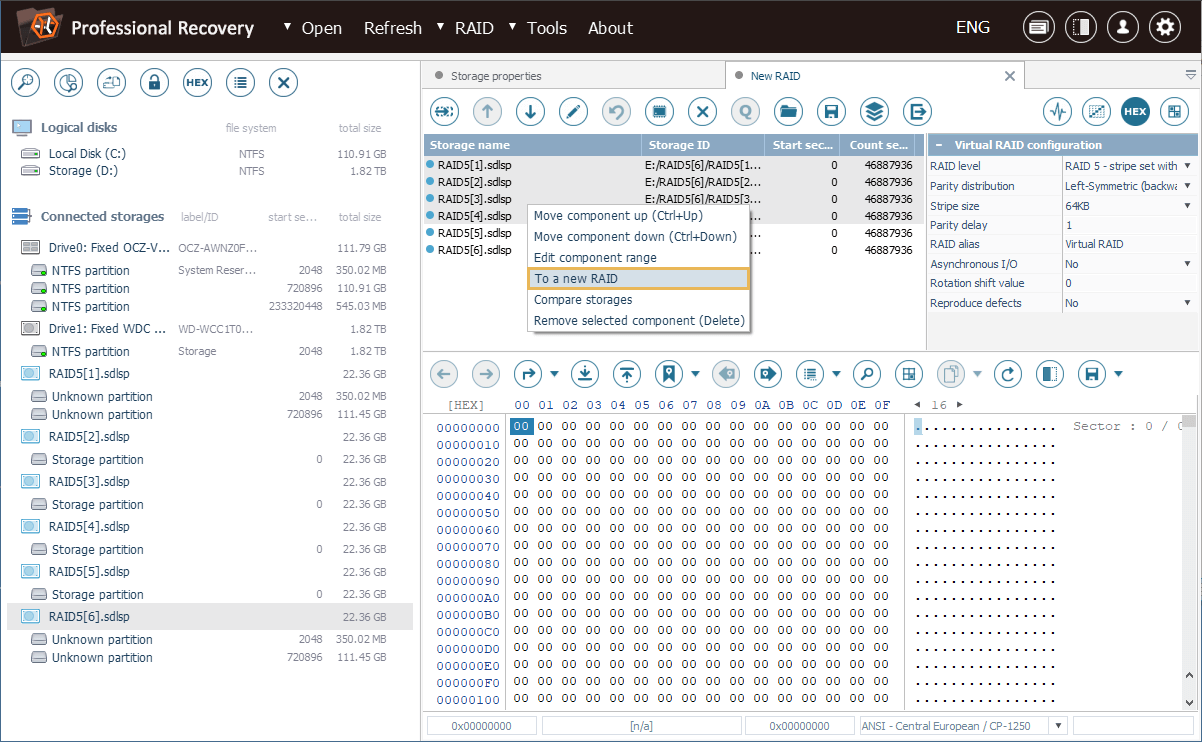 The raw content of selected components can also be instantly opened for comparison.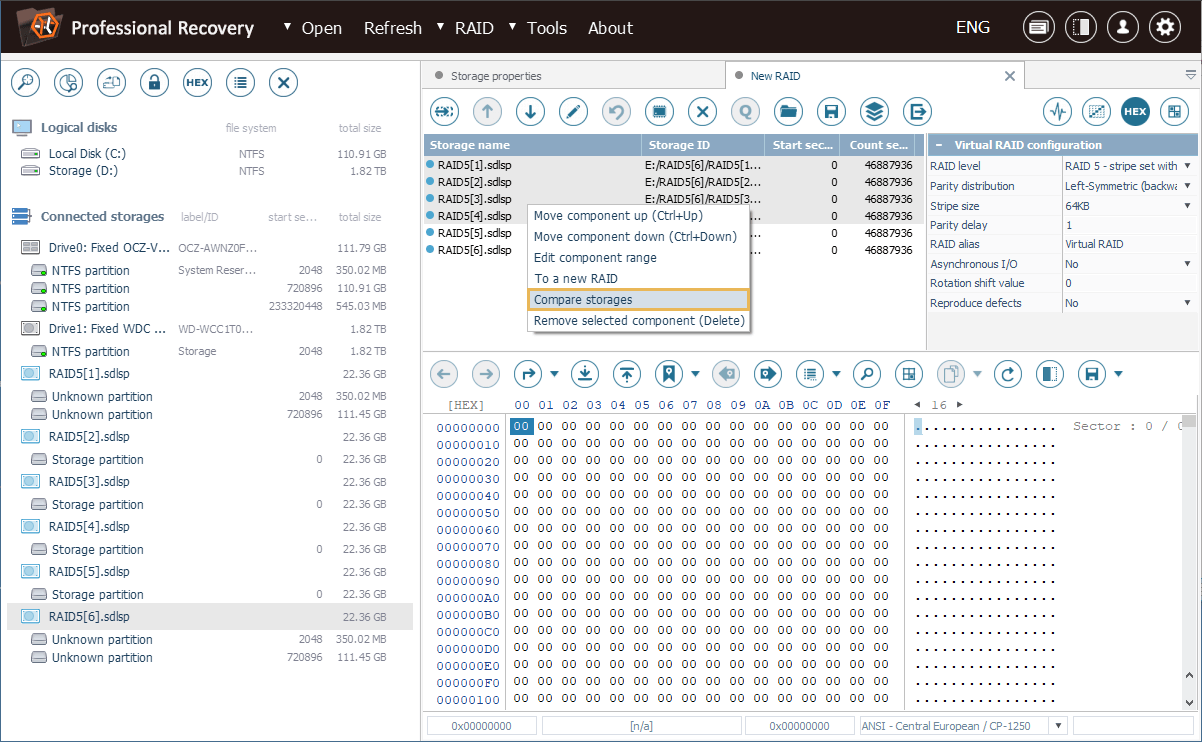 Optimized handling of LVM volumes
The updated software is capable of opening thinly-provisioned volumes even in situations of their partial metadata damage. When the "ignore errors" mode is enabled, it will attempt to bypass any minor issues that might be present in the volume's metadata structures.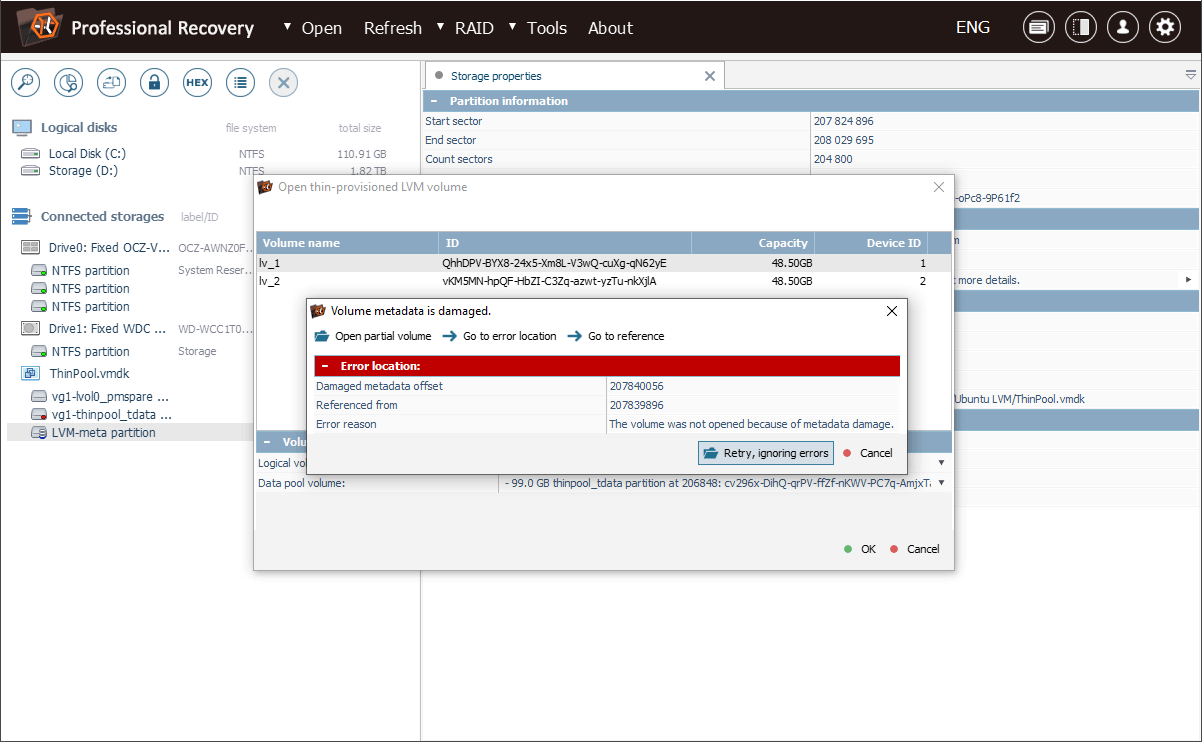 This option is particularly useful in scenarios when the metadata is partially damaged, but the actual content may still be recoverable. Along with thin volumes, the program can now open thick volumes, meeting the needs of users who work with both types of LVM volumes.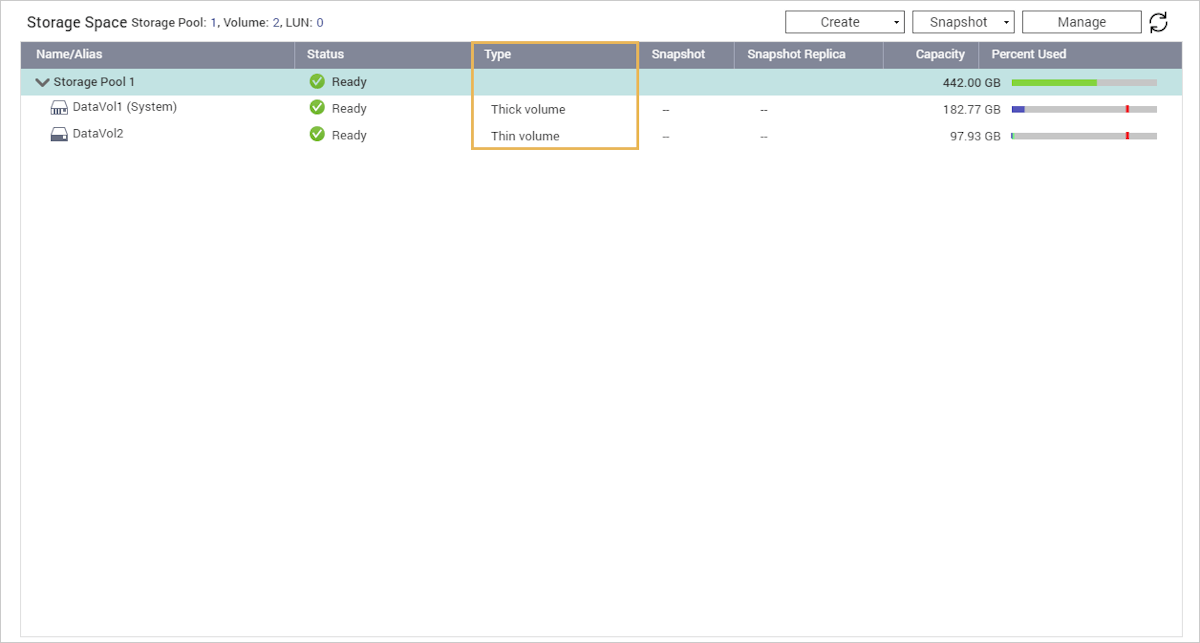 File system journal analysis for NTFS
A quick scan operation for the NTFS file system now includes an option for scanning its log file (journal). Given that such a log contains a record of changes made to the file system since the last time it was mounted, the information available in it may be helpful in certain instances. Therefore, users can enable this option if they want to ensure a more thorough scan.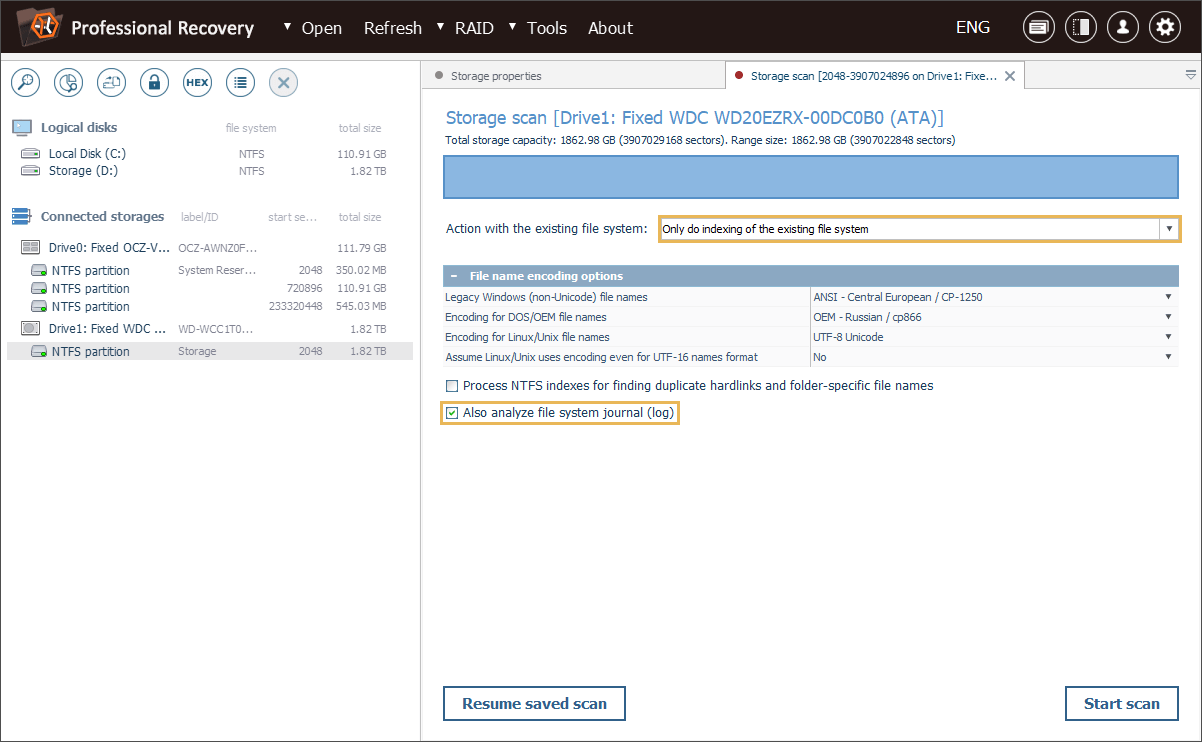 Upgraded dynamic reports
The reporting tool now allows using custom htm-templates to tailor the design of generated HTML-reports. As a result, it becomes possible to create personalized reports according to the specific needs or branding requirements.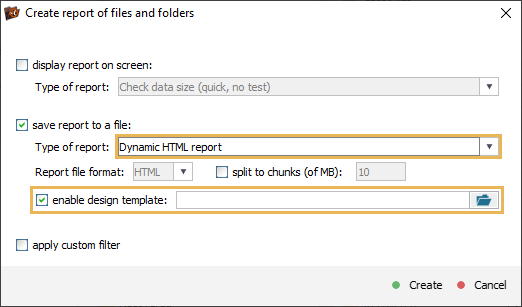 A new sub-report type has also been provided. It makes it easy to re-calculate the folder capacities, based on the files that are present in them, in cases when the initial report is generated on the available file system content (without a prior scan).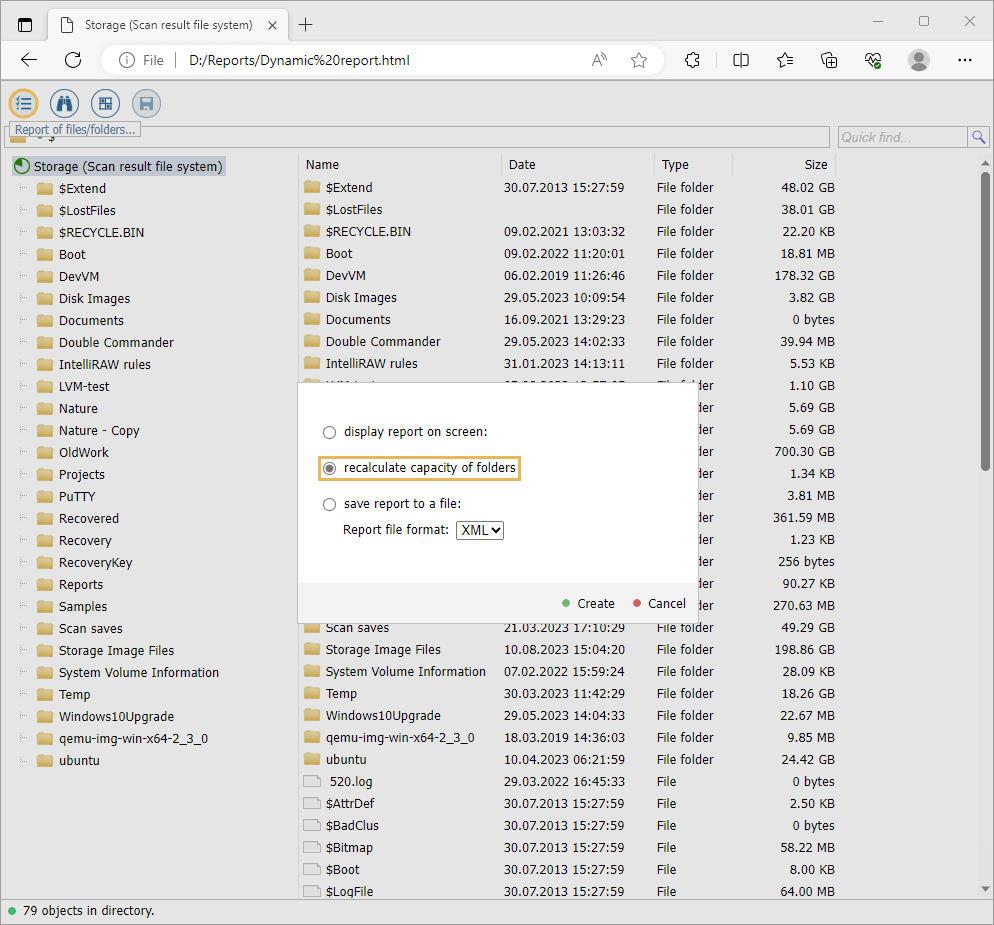 Copying from more than one file at a time
A new function added to the software enables even more efficient and customizable file-saving process. With its help, users can now manage and launch multiple copying tasks simultaneously, which makes it easy to set up automatic copying from multiple files at once. It is only necessary to specify the source files to be copied, define destination locations for them and start their concurrent copying with a single click.

Saving of processed data from multiple storages
On-demand disk imaging has become facilitated for users dealing with several source storages simultaneously. A new dedicated tool allows performing mass saving of accessed data from several storages at once. There is no need to create multiple sparse image files one by one – it's now possible to select the required storages from the list, and the respective files will be created automatically in the defined location.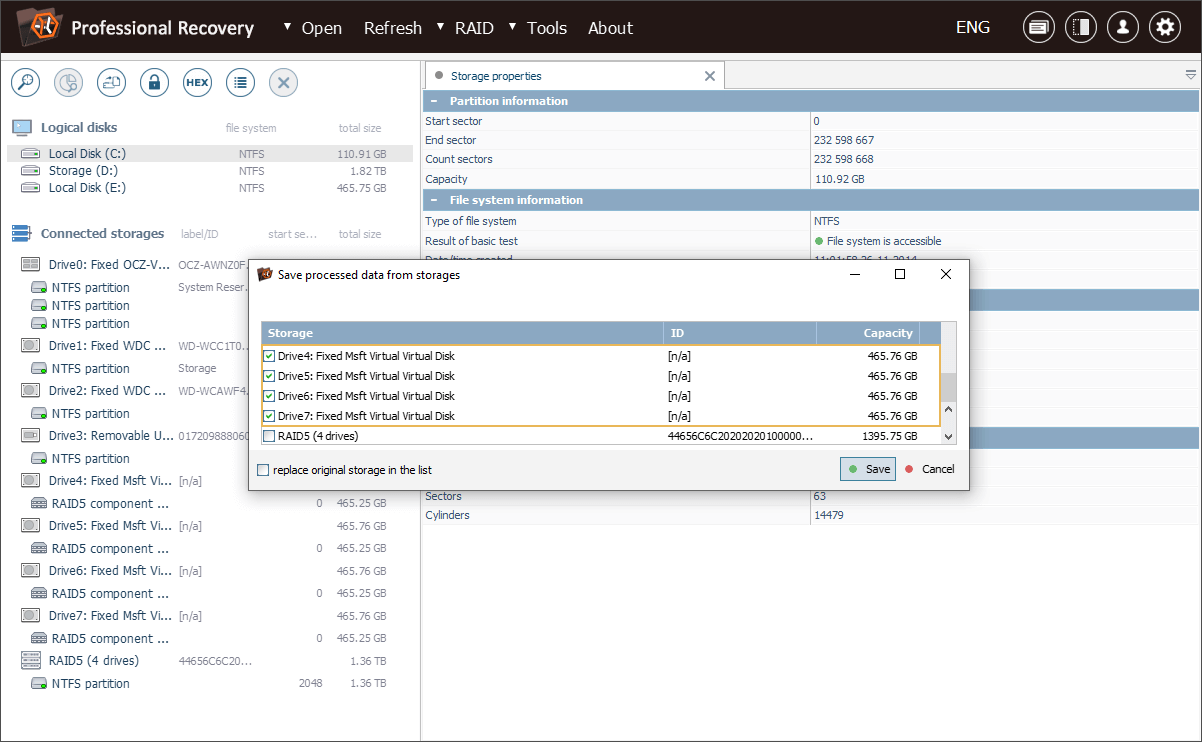 To get an insight into the adjustments that have been made in each release, you may also read the product's changes log:
UFS Explorer Professional Recovery
As this overview shows, UFS Explorer has become better in many respects, that's why an upgrade to its latest version truly deserves consideration. The current software can be downloaded by following the prompts in the program's interface or from the Software Store. There you can also familiarize yourself with the detailed record of modifications.