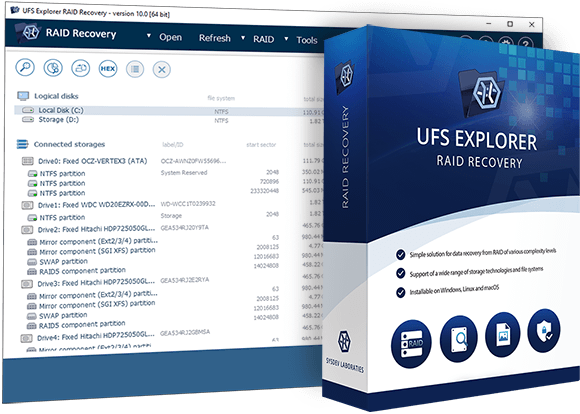 Available for:
UFS Explorer RAID Recovery
Effective data recovery from RAID and other storage media
from $139.95
---
A go-to solution for the majority of data loss issues

Instant recognition and automatic reconstruction of RAID

Smooth work with RAID of various complexities

Support for many other "unordinary" technologies

Creating highly adjustable disk images

Additional means for handling faulty drives and RAID sets
Overview
UFS Explorer RAID Recovery is a must-have data recovery toolkit that should be kept at hand when dealing with RAID and various RAID storages, like NAS and DAS. Focusing particularly on complex storages, the program retrieves the files lost from them just as efficiently as it does from other electronic media, including individual disks, USB flash drives and memory cards. Along with that, the software covers a wide range of technologies and configurations that may be applied on the affected device: various file systems of Windows, Linux, and macOS; the Microsoft's and Apple's encryption features – BitLocker and FileVault; combined logical volumes, like Linux LVM, mdadm, Windows Dynamic Disks, Storage Spaces and Apple Fusion Drive; non-standard RAID setups – Synology Hybrid RAID, Drobo BeyondRAID, Btrfs-RAID and ZFS RAID-Z. The application may put the supported storage together using the information remaining on the drives and will also let you assemble it manually, with the help of a convenient RAID Builder unit that operates in a safe read-only mode.
Furthermore, UFS Explorer RAID Recovery offers plenty of additional functionality, which, among other things, assists in restoring stand-alone or RAID drives with characteristic signs of physical defects. The program allows specifying parameters as to reading the storage or creating its disk image, with the possibility to choose an optimal manner for skipping damaged sectors. Maps of bad blocks produced by the software itself or by compatible utilities from other vendors can also be employed in the recovery process.
RAID recovery
RAID 5
RAID 6
NAS recovery
QNAP
Buffalo
Synology SHR
Drobo BeyondRAID
Apple RAID
Fusion Drive
FileVault
BitLocker
Dynamic Disk
External drive
USB stick
Memory card
Virtual disk
Disk image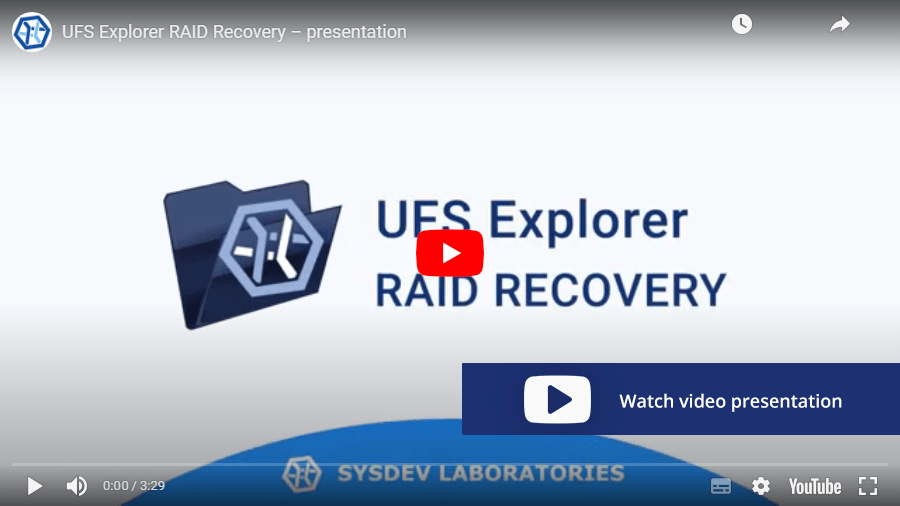 The software can be installed on Microsoft Windows, Apple macOS and Linux.
Supported host operating systems:
Microsoft Windows ®: Windows ® XP with Service Pack 3 and later
Apple macOS: version 10.15 and above
Linux: Debian Linux 6.0 (or compatible) and above
Supported host computer architectures:
Intel Architecture, 32-bit (IA-32, x86)
AMD64 (x86-64)
Apple Silicon (arm64)
The software works with file systems of Windows, macOS, Linux and BSD/Solaris.
Supported file systems:
Data access and advanced recovery:
Windows: NTFS, FAT, FAT32, exFAT, ReFS/ReFS3;
macOS: HFS+, APFS;
Linux: Ext2, Ext3, Ext4, XFS, Extended format XFS, JFS, ReiserFS, UFS, UFS2, Adaptec UFS, big-endian UFS, Sun ZFS, Btrfs;
BSD/Solaris: simple/stripe ZFS volumes.

The software supports virtual building, reading and data recovery from RAID.
Recovery from complex RAID storages:
Automatic recognition of known RAID metadata, saving and editing RAID configurations
Automatic reconstruction of mdadm, LVM, Apple Software RAID, Intel Matrix, etc.
Support of most popular standard RAID patterns for RAID 0, RAID 1E, RAID 3, RAID 5, RAID 6, RAID 7, etc.
RAID-on-RAID support: RAID level 10, 50, 60, 50E, etc.
Support of custom RAID patterns via RDL or Runtime VIM
Reading "stripe"-volumes with ZFS and RAID-Z (RAID-Z, RAID-Z2, RAID-Z3)
Adaptive reconstruction of RAID 5, RAID 6, RAID 5E, RAID 1, RAID 10, RAID 0+1 and nested RAID (levels 50, 51, 60, 61, etc.) using maps of bad sectors
RAID assembly from virtual disks
Support of Drobo BeyondRAID, Synology Hybrid RAID, Btrfs-RAID
The software is able to decrypt encrypted storages.
Supported encryption techniques:
Encryption of Apple APFS volumes
BitLocker and BitLocker To Go encryption
The software is capable of working with disk images and virtual machines.
Supported virtual technologies:
VMware VMDK, Hyper-V VHD/VHDX, QEMU/XEN QCOW/QCOW2, VirtualBox VDI, Apple DMG, Paralles, EnCase E01 and Ex01 non-encrypted files, simple disk images
Internal sparse format
Support of drive as a disk image (for XEN and others)
Synology Sparse iSCSI
Custom "virtual image" files of Runtime Software
R-Studio image files (RDR file format)
Dynamic definition of virtual bad blocks on disk images through recognition of a given pattern
The software is capable of detecting and working with a wide range of modern storage technologies.
Supported technologies:
Full support:
Logical Disk Manager, Storage Spaces, Apple Software RAID, Fusion Drive (based on APFS), LVM, mdadm
Recognition:
Providing a partition table, information about Spans and Stripes of LVM2, AIX LVM, HP-UX LVM, Apple Software RAID
Giving a partition structure for MBR, Apple Partition Map, BSD/Adaptec/Solaris/Unix Slice Map, GPT, Novel, Intel Matrix
Drobo volumes, HP EVA, HP LeftHand, Symphony SAN
The program can handle storages with damaged sectors.
Ways and means to work with damaged disks:
Advanced "Open storage" procedure with drive reading configuration
Embedded disk imager with settings for read method/timeout and parameters for skipping defects
Production of a defects map during the imaging process
Creating "dynamic" (pattern-based) maps of bad blocks for disk images
Use of disk images instead of original disks (including ones from third-party software)
Defining damaged regions using bad sector maps created by UFS Explorer or compatible third-party tools (ACE Lab solutions, DeepSpar DDI)
The application has been expanded through a set of additional tools and features.
Supplementary features:
Tools for low-level data analysis:
Hexadecimal viewer for storages, partitions and files
Compatibility with forensic imaging instruments:
Recognition of certain data protection bridges/adaptors (OpenText Tableau, CRU WiebeTech)
Control over disk imaging with DeepSpar USB Stabilizer/Guardonix

Additional functions related to storage scan:
Pausing the scan
Previewing intermediate scan results
Saving scan results for further work
Full-range storage scan for all-at-once data recovery
Five options for handling the existing file system
Integrated management of custom rules for raw recovery

Facilitated processing of scan results:
Indication of the state of each file
Color differentiation between the existing/restored data
Options for preview, search, sorting, filtering of files

Options for work with partitions:
Detecting lost partitions
Automated partition aligning
Defining partitions manually

Interface:
Helpful prompts
Zooming option

Reporting capabilities:
Recoverable data size with metadata test
Software events log

System requirements – supported OS, 1 GB of RAM, 20 MB of free space.
Minimal configuration:
any of the supported operating systems
at least 20 MB of free space on the disk for the software executable files
at least 1 GB of RAM
Linux software version can run from most modern Linux Live CD
Recommended configuration:
64-bit edition of any of the supported operating systems
over 1 GB of free space on the disk for the program and temporary files
at least 2 GB of RAM and 4 logical cores CPU
default web browser
Trial version limitations – there are file size and the Save function limitations in the trial version.
Trial limitations:
The software will copy files with the size below 768 KB.

Efficient data recovery from RAID
UFS Explorer RAID Recovery allows working with RAID of various levels, including standard patterns (RAID 0, RAID 1, RAID 1E, RAID 3, RAID 5, RAID 6, etc.), nested levels (RAID level 10, 50, 60, 50E, etc.) as well as custom RAID configurations via RDL or Runtime VIM. The software also supports specific RAID types, like Drobo BeyondRAID, Synology Hybrid RAID, Btrfs-RAID and RAID-Z which makes it an essential tool for most tasks related to data recovery from complex storage systems.

Support of various file systems
Besides RAID, the software offers direct access to the intact content and performs data recovery from other common types of storage media, including internal and external hard drives, USB flash drives, memory cards, etc. used in different environments: Windows (FAT/FAT32/exFAT, NTFS and ReFS/ReFS3), macOS (HFS+, APFS), Linux (Ext2/Ext3/Ext4, ReiserFS, XFS, JFS, IBM JFS2) and BSD/Solaris (UFS/UFS2, ZFS).

Perfect for data recovery from NAS
UFS Explorer RAID Recovery supports popular NAS devices of such vendors as Drobo, Buffalo Technology (TeraStation, LinkStation), Synology, QNAP Systems, etc. and is an optimal solution for this type of storages. The software detects RAID metadata on NAS drives and uses it for automatic reconstruction of the storage. The array can also be assembled manually with the help of an embedded virtual RAID builder instrument.

Work with diverse storage technologies
Along with RAID-based storages, this specialized application offers the possibility to handle other storage technologies implemented in modern devices. Among them are Windows Dynamic Disks and Storage Spaces, Apple Software RAID and APFS-based Fusion Drive, Linux mdadm and LVM, virtual disks used by leading virtualization systems, including VMware, Hyper-V, VirtualBox, QEMU and XEN, as well as a variety of disk image formats.

Extensive disk reading and imaging possibilities
UFS Explorer RAID Recovery allows choosing the method of data access and specifying a timeout for cases when reading fails due to an I/O device error. An advanced disk imager makes it possible to customize the imaged area and provides adjustable parameters such as read timeout, block size, direction, protocol and settings for the omission of defective blocks. The bad blocks encountered during the process of imaging get indicated in a map which can be utilized for other data recovery operations.

Adaptive RAID reconstruction
The software supports an adaptive reconstruction of redundant disk arrays (RAID 1, RAID 5, RAID 6, etc. ) using bad sector maps generated for the components during the process of their imaging or through recognition of a given pattern and external ones created by other compatible tools. The program determines damaged data blocks on disks on the basis of their maps and can restore them using redundancy (parity information or a copy of data).

Customizable scanning
The software offers several scanning options, including a quick scan for defined file system types, longer profound search for lost data by known content with the possibility to provide custom IntelliRAW rules, scanning of the space used by the file system or just the "free space" areas. The scanning procedure can be paused for checking the intermediate result while its results can be saved for further references.

Defining damaged sectors
UFS Explorer RAID Recovery produces defects maps during disk imaging and supports ones created by other compatible solutions. The program can utilize such a map for the virtual definition of damaged sectors on the storage or identify bad blocks dynamically by recognizing a specified content pattern. The defective areas can also be masked with a provided text or hexadecimal template.

Helpful additional options
UFS Explorer RAID Recovery is enhanced with a set of helpful options for increased convenience. The software makes it easier to process the results through visual differentiation between the currently available and restored data, shows the state of each recovered file, offers an advanced search function, allows previewing found files of most common formats, including images, PDF documents and text files, sorting files by name, size or date and filtering them by different criteria.
When to use UFS Explorer RAID Recovery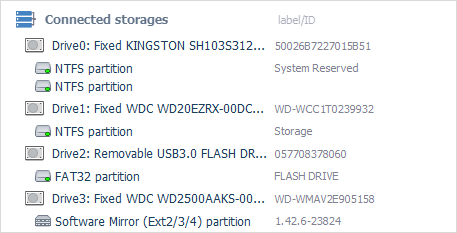 Get access to files or cope with data loss from common storage media: hard disk drives, USB sticks, memory cards, etc.
The utility effectively works with various linear storage devices, including internal as well as external hard disk drives, USB flash drives, memory cards and many others, thus serving as an essential data recovery tool for handling most typical cases of data loss, like accidental deletion of files, storage formatting, malware attack, hardware or software malfunction, etc.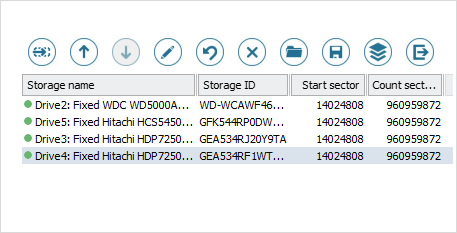 Recover data from complex storage systems: RAID and RAID-based devices
UFS Explorer RAID Recovery is an efficient solution for restoring data from RAID of different complexity, both software and hardware, and various RAID-based storages, like DAS and NAS. Moreover, the software makes it possible to perform data recovery from systems that apply specific RAID configurations, like Drobo BeyondRAID, Synology Hybrid RAID and Btrfs-RAID.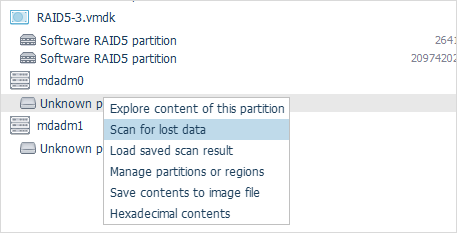 Work with devices implementing specific technologies: LVM, LDM, Storage Spaces, etc.
The software is enhanced with wide support of modern storage technologies employed in different environments. It allows processing composite volumes, including LVM, MS Storage Spaces, Dynamic Disks, Apple Software RAID and APFS-based Fusion Drive, etc. which significantly expands the list of target devices it can be applied to.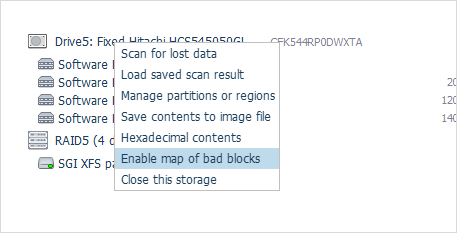 Retrieve files from disks or RAID with bad sectors
The application gives the possibility to recover data from storages that have damaged sectors or other hardware issues with maximum efficiency. Not only it offers highly configurable disk reading and imaging procedures but also generates a map of bad blocks during the imaging process. In addition, virtual bad blocks can be defined dynamically on disk images by recognizing a given pattern or by reading bad sectors maps created by other compatible solutions.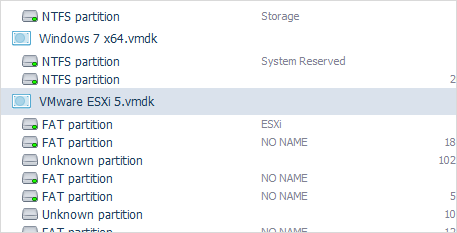 Open or recover data stored in virtual machines: VMware, Hyper-V, VirtualBox, etc.
UFS Explorer RAID Recovery effectively deals with disk images and virtual disks created by major virtualization software, like VMware, Microsoft Hyper-V, VirtualBox, QEMU, XEN, etc. and successfully copes with data recovery from such storages as though they were ordinary physical devices.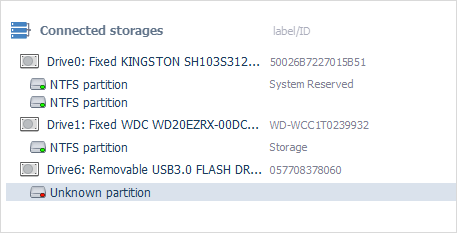 Reconstruct damaged file systems: Windows, macOS, Linux
A set of tools integrated in the software allow effectively solving practically any case of logical data loss, including the most severe ones. The program will either simply read file system metadata or conduct its detailed analysis and predict the allocation of files based on the file system specifics, allocation of other files or file content analysis to produce the best possible data recovery result.
Software Releases
The current version of the product can be obtained on the download page available via the button below.
Download links for all previous product versions starting from Version 7 (including Versions 7.*, 8.*, 9.*) and up to the current version are provided in the Changes log. There you will also see the record of updates and their descriptions.
Older Version 5.25.1 of the software can be downloaded from its product page in the Software Store.
Other discontinued versions (Version 3, Version 4.9.2 up to Version 5.9) can be found on the Legacy downloads page.