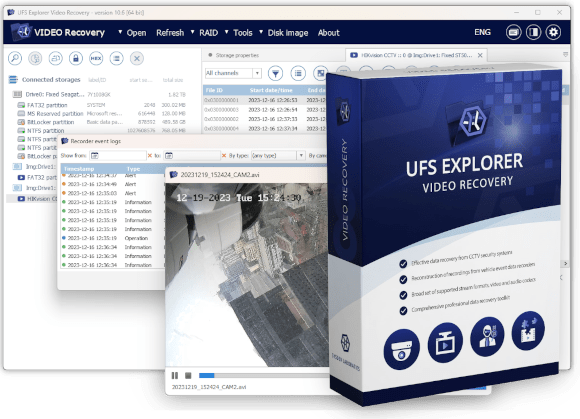 Available for:
UFS Explorer Video Recovery
Versatile solution uniquely suited for complicated video recovery tasks
---
Outstanding data recovery from video surveillance systems

Exceptionally effective work with driving recorders

Processing a wide range of formats, video and audio codecs

Intelligent techniques for the reconstruction of footages

Forensically sound video retrieval with integrity control

Support of numerous storage systems and technologies

Comprehensive set of professional data recovery tools
Overview
UFS Explorer Video Recovery is a multifunctional data recovery instrument geared towards work with closed-circuit television appliances and event data recorders (EDR) utilized in vehicles.
Along with a multiplicity of storage devices of different formats and complexity, the program supports a broad range of specific file systems implemented in CCTV appliances and driving recorders as well as various video and audio codecs. In addition to that, the utility is capable of processing stream data: each frame of a video stream is checked for validity, combined with the associated frames and the obtained result is placed in a universal container file which can be opened using any standard software means. In addition, the application works with practically any data carrier – starting from linear internal and external digital media to RAID systems and disk images produced by conventional disk imaging utilities and professional forensic tools, like EnCase and FTK Imager. Enhanced with a mechanism of integrity control and extended reporting possibilities, the software doesn't modify the content of the source and can be used by forensic experts for the extraction of reliable video evidence.
Furthermore, the program incorporates decryption techniques for BitLocker, LUKS, FileVault 2 and APFS encryption, works with virtual disks of VMware, Hyper-V, VirtualBox, QEMU, XEN, etc., allows assembling standard RAID patterns and specific RAID layouts, like Btrfs-RAID, ZFS RAID-Z, Synology SHR, and supports many other storage technologies, including Windows Dynamic Disks, Storage Spaces and deduplication, Apple Software RAID, Core Storage and Time Machine, Linux mdadm and LVM with Thin Provisioning as well. With broad functionality and unmatched specialized features, UFS Explorer Video Recovery can become an indispensable assistant in almost any data recovery task.
Software activation options
Software-based Access Key
A Sentinel SL electronic key based on the "fingerprint" of the user's computer which should be installed and stored within the system.
Doesn't require physical shipment
Hardware-based Access Key
A Sentinel HL key on a USB-device that enables running the software when physically connected to the computer.
Can be transferred between different machines
---
The details related to the usage of different types of Access Keys along with other licensing terms and conditions are available in the
End-User License Agreement
.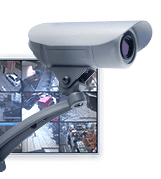 Unequaled data recovery form CCTV units
The program allows achieving outstanding results of video recovery from most surveillance devices that may employ general-purpose file systems, like XFS, EXT, FAT32, or vendor-specific types, like WFS, DHFS, HIK, Mirage, Pinetron, BKFL, etc. Also, the software works with various stream and video compression formats that are usually not supported by regular data recovery utilities.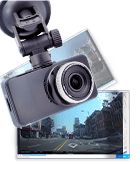 Maximum recovered output from driving recorders
The software enables highly efficient recovery of footages from numerous vehicle DVRs, including the latest models. Even in cases when the video was partially overwritten or the process of its recording was interrupted due to an accident, it is still possible to obtain an intact video file thanks to a mechanism that uses "tails" or "holes" of previously allocated files and a special video transmuxing technique.
Key features

Smart scanning procedure
The software automatically recognizes the supported CCTV/EDR formats (file system, video stream, video/audio codecs, vendor-specific metadata, etc.) and restores the lost recordings without the need for any special configurations. No prior analysis of the data is required – all the necessary algorithms are already embedded into the program.

Extensive toolset covering almost any data loss challenge
The application offers an exceedingly broad functionality which mostly overlaps with the one available in the Professional edition of UFS Explorer. It contains tools for work with different storage technologies, complex RAID-based devices, encrypted volumes, virtual disks of popular virtual machines, disks with non-standard sector sizes, defective drives and enables efficient analysis of raw binary data and its convenient editing.

Support of forensic disk images
Aside from conventional disk images, UFS Explorer Video Recovery is capable of processing ones created with professional forensic tools – EnCase Imager and FTK Disk Imager. The utility allows opening and exploring the content of a forensic disk image created for a particular drive, volume or file and makes it possible to scan it for lost data like any ordinary physical storage device.

Special technique for video transmuxing
The obtained footages can be repacked by the software into the universal file format supported by most standard media players. In contrast to transcoding, no changes are made to the actual video or audio content – the original data and codecs remain fully preserved which is of critical importance for the tasks related to the retrieval of digital evidence in the context of forensics and cyber security.

Analysis of the video data
The program is able to analyze the allocation of video data on the disk and can provide a report on the location of frames the video consists of. Moreover, it allows establishing control over the content of files by calculating their checksums – a change of at least one byte can be easily spotted due to the difference of the file's checksums in several reports.

Advanced methods of data reconstruction
The application is able to reconstruct damaged file systems and recover lost data even in cases of serious storage corruption. When a logical issue leads to the loss of information about the allocation of fragmented files, the program is capable of restoring footages through finding and matching their segments, providing a fully functional video file as a recovery result.

Multiple scanning options
Along with the direct access to the available content, the utility offers several possibilities of the search for deleted and lost information: a scan for CCTV video data with a set of optional filters, recovery of RIFF/QTFF videos recorded EDR systems and a traditional configurable scan to recover files of all types.

Useful supplementary features
The program makes it easy to restore footages recorded on a particular date or by a certain surveillance camera. All recovered videos can be sorted by diverse criteria and previewed directly in the software. Moreover, the software allows extracting each video frame from the recording and converting them into a series of still images. Also, the obtained scan result can be effortlessly saved for further references.
Technical specifications
The software can be installed on Microsoft Windows.
Supported host operating systems:
Microsoft Windows®: Windows®7 and later
Supported host computer architectures:
The program works with a wide variety of CCTV systems.
Video codecs:
Motion-JPEG, Motion-JPEG2000, ASF (MPEG 4 Part 2), AVC (h.264), HEVC (h.265), MPEG/MPEG2, h.263

Audio codecs:
PCM, ADPCM, G.711/A-Law, MP3, mu-Law

CCTV file systems:
WFS, DHFS, HIK, Mirage, Pinetron, BKFL, etc.

File systems for CCTV used as a metadata source:
All supported general-purpose file systems, UAVtech

Video stream formats:
umv, mdig, rsfm (Rsfs), dch264 (DHFS), ssf, xql, dhav (DHFS), avix1, rim, lvf, keno, aura, human, siemens, hav, axs , idis, idis2, cli_el, lg_tfs, s1, ss_nsys, ndav, ndap, adtssf, govctv, cenova, tango, acumen, ftvt, bnk, everfocus, iseeq, commax, rms, SVN, SHFL, etc.

Video conversion into an image sequence:
TIFF/zlib, lossless

The software supports footages of diverse event data recorders.
Video codecs:
MPEG 4 Part 2, MPEG 4 Part 10 (h.264), MJPEG, HEVC (h.265)
Audio codecs:
PCM, ADPCM, G.711/A-Law, AAC, MP3, mu-Law
EDR file systems:
NxFS, general-purpose file systems
Video stream formats:
QTFF, RIFF, NxFS, etc.
Video conversion into an image sequence:
TIFF/zlib, losssless
The application handles the file systems of Windows, macOS, Linux and BSD/Solaris.
Data access and advanced recovery:
Windows: NTFS, FAT, FAT32, exFAT, ReFS/ReFS3;
macOS: HFS+, APFS;
Linux: Ext2, Ext3, Ext4, XFS, Extended format XFS, JFS, ReiserFS, UFS, UFS2, Adaptec UFS, big-endian UFS, Btrfs;
BSD/Solaris: ZFS.
Data access only:
Novell: NWFS, NSS.
The software supports virtual building, reading and data recovery from RAID.
Recovery from complex RAID storages:
Automatic recognition of known RAID metadata, saving and editing RAID configurations
Automatic reconstruction of mdadm, LVM, Apple Software RAID, Intel Matrix, etc.
Support of most popular standard RAID patterns for RAID 0, RAID 1E, RAID 3, RAID 5, RAID 6, RAID 7, etc.
RAID-on-RAID support: RAID level 10, 50, 60, 50E, etc.
Support of custom RAID patterns via RDL or Runtime VIM
Support of "stripe"-volumes with ZFS and RAID-Z (RAID-Z, RAID-Z2, RAID-Z3)
Support of Synology Hybrid RAID, Btrfs-RAID
RAID assembly from virtual disks
The software is able to decrypt encrypted storages.
Supported encryption techniques:
Full-disk encryption
LUKS encryption
Apple FileVault 2 encryption
Encryption of Apple APFS volumes
File system conversion (eCryptFS)
BitLocker and BitLocker To Go encryption
The software is capable of working with disk images and virtual machines.
Supported virtual technologies:
Disk images created with specialized forensic tools (EnCase, FTK disk imager, etc.)
Simple disk images
VMware VMDK, Hyper-V VHD/VHDX, QEMU/XEN QCOW/QCOW2, VirtualBox VDI, Apple DMG, Paralles
Internal sparse format
Support of drive as a disk image (for XEN and others)
Synology Sparse iSCSI
Opening a partition/file within a storage as a virtual disk
Support of DeepSpar DDI images
Custom "virtual image" files of Runtime Software
R-Studio image files (RDR file format)
The software is capable of detecting and working with a wide range of modern storage technologies.
Full support:
Logical Disk Manager, Storage Spaces, Microsoft volume deduplication, Apple Core Storage, LVM with thin provisioning, mdadm
Recognition:
Providing a partition table, information about Spans and Stripes of LVM2, AIX LVM, HP-UX LVM, Apple Software RAID
Giving a partition structure for MBR, Apple Partition Map, BSD/Adaptec/Solaris/Unix Slice Map, GPT, Novel, Intel Matrix
Drobo volumes, HP EVA, HP LeftHand, Symphony SAN
The application has been expanded through a set of additional tools and features.
Options for saving footages:
Video transmuxing using an .AVI file container
Converting videos into a series of still images (tiff/zlib, lossless)
Saving damaged frames as pictures
Tools for low-level data analysis:
Hexadecimal viewer for storages, partitions, files, file fragments
Hexadecimal editor for disks and partitions
Field highlighting
Data interpreter
Parity calculator
Storage content comparison
Bitwise "exclusive OR" (XOR) function
Parallel search
Additional functions related to storage scan:
Three types of scan (CCTV recordings, RIFF/QTFF videos, general scan)
Scan filters for date/time, camera numbers
Pausing the scan
Previewing intermediate scan results
Saving scan results for further work
Full-range storage scan for all-at-once data recovery
Visualization of the scanning process
Five options for handling the existing file system

Options for work with partitions:
Detecting lost partitions
Automated partition aligning
Defining partitions manually
Auto-span tool
Reporting capabilities:
Interactive HTML report
Basic list of folders and files (HTML, CSV, XML) with a checksum for each file
Recoverable data size with metadata test
Software events log
System requirements – supported OS, 32 GB of RAM, 20 MB of free space.
64-bit edition of any of the supported operating systems
at least 20 MB of free space on the disk for the software executable files
at least 32 GB of RAM
Recommended configuration:
over 1 GB of free space on the disk for the program and temporary files
memory specification based on the capacity of the scanned disk and frame resolution (memory use increases with larger disk size and smaller frame size)
default web browser
Please note: The software is continually refined to be capable of working with the newest CCTV and EDR devices. If your model is not supported yet, you can submit your data for analysis and the support will be included in the subsequent software releases.
When to use UFS Explorer Video Recovery
Extract the data lost from surveillance systems and event data recorders
The software has been enhanced with a comprehensive range of techniques that enable it to work effectively with closed-circuit television appliances (CCTV) and event data recorders (EDR) used in vehicles. Adapted to the peculiarities of such devices, the program performs the necessary operations automatically which eliminates the need for preliminary examinations and special settings.

"Undelete" the videos removed from a driving recorder
The utility makes it possible to restore recordings that have been mistakenly or maliciously deleted from an EDR system and thus bring back the video evidence that may be crucial in the investigation of a crime, accident and other disputes. The found videos can be previewed directly in the program which makes it easy to locate the needed footage.

Reconstruct videos from an EDR affected by an accident
The damage to a vehicle DRV in a road accident and other issues that prevent its normal functioning may lead to the corruption of the recorded videos and impossibility to play them using standard means. UFS Explorer Video Recovery is able to restore the structure of the damaged storage and reconstructs corrupted videos from their pieces with validation of each video frame.

Work with CCTV/EDR systems in a forensically sound manner
The software operates in the read-only mode and supports various formats of disks images, including ones created with EnCase Imager and FTK Disk Imager, which prevents any possibility for it to affect the source storage or any information on it. Even when the system employs distortion or encryption of video data, the program is capable of performing the decryption and recovery without recoding or in any other way changing the initial frames.

Create forensic reports on the recovered data
The software may come in handy for creating forensic reports as to the location and the analysis of the allocation of frames that constitute a video stream on the storage. Moreover, the program allows creating a report with the list of available files, their properties, checksums calculated for them, the information about the scanned storage, the date of the scan and the time when the report was created.

Repackage footages into a universal delivery format
The utility makes it possible to wrap CCTV recordings of various vendor-specific formats into a universal file container supported by general-purpose media players. It is worthy of note that no conversion or recoding of the original video data is performed so that the obtained video data is guaranteed to match the data on the source disk.