How to connect SATA drives to a PC using a USB to SATA/IDE adapter
If you need to connect your SATA hard drive to another computer for data recovery, but don't want to disassemble the tower because of the warranty, lack available SATA ports or simply prefer using a laptop PC, you can easily convert this SATA drive into an external disk plugged into a USB port of the computer instead of the motherboard.
Before starting the procedure, you need to prepare a USB to SATA/IDE adapter, which enables communication between these two most common interfaces. As USB ports are not able to provide sufficient current to spin the drives, you also have to find some external power supply like an AC/DC adapter and a Molex to SATA Power cable for it. However, some models of USB to SATA/IDE adapters pack both an adapter and a power supply together so that you wouldn't have to look for a way how to power your drive.
Power the drive

Attach the power cable of your SATA drive to the Molex to SATA Power cable connected to the power supply.

Check the drive

Before connecting the SATA hard drive to your PC, you should make sure that it is operable. Switch the power on and listen to the disk: you should hear its start and initialization without any unusual noises, like clicking or grinding. If the drive doesn't produce any sounds, this may signal about electronics failure.

Connect the drive to the USB to SATA/IDE adapter

If the disk is in working order, switch the power off and connect its SATA data cable to the USB to SATA/IDE adapter. Switch the power supply back on and wait until the drive boots.

Connect the USB to SATA/IDE adapter to the PC

Now you can connect the USB cable (USB plug) of the adapter to the USB port on your computer. As soon as the connection is established, the drive will be displayed in Disk Management.
The following video-guide will walk you through the whole process: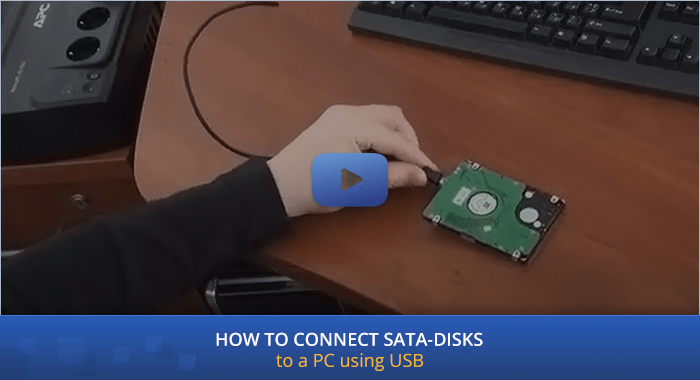 To learn more about interface type identification as well as other possible methods of connection, please, refer to HOW TO: Identify the interface type of a hard drive and connect it to a PC for data recovery.
Last update: August 21, 2022
If you liked this article, you can share it on social media: