Drobo Beyond RAID Assistant *Only RAID Recovery, Network RAID
Overview
Drobo BeyondRAID Assistant makes it possible to analyze drives extracted from Drobo for the presence of lost BeyondRAID configurations and assemble them in the program's interface for further operations. Please note that the mounted storages are just virtual imitations of the real objects. They are processed in a safe-read only mode, without affecting any information on the source storage devices.
The component can be launched using the "Drobo BeyondRAID Assistant" option from the "RAID" item of the main menu of UFS Explorer.

All the storage devices opened in the program, including virtually assembled complex storages, will be listed in the left pane of the opened window. The right pane contains the drives picked out for analysis. The ones with the detected Drobo "markup" appear in it automatically.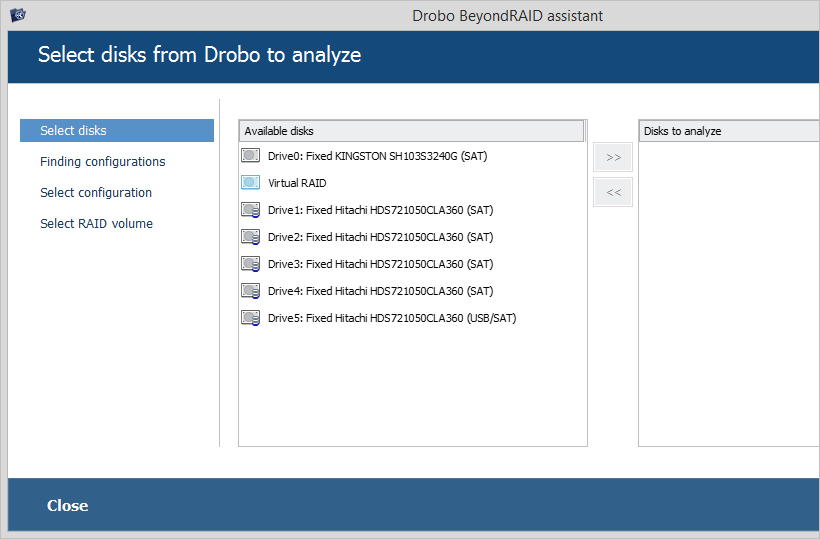 Any selected storage can be added to or removed from the right pane using a double click or the arrow-like buttons positioned at the center.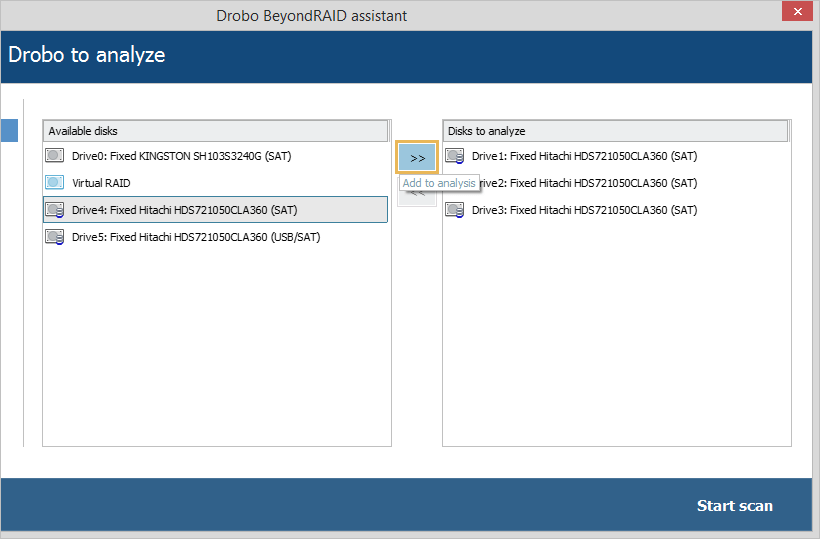 The elements for the start of the analysis and for exiting Drobo BeyondRAID Assistant can be found in the buttons area at the bottom of the window.
Search for lost BeyondRAID configurations
When the necessary configuration created by Drobo cannot be read out correctly, for instance, as the result of a reset to the factory defaults, it may be possible to locate it using Drobo BeyondRAID Assistant, provided that it hasn't been entirely overwritten.
Having launched the element, define the list of storage devices to be scanned by the software. If a certain storage was added by mistake, remove it using a double click or the respective arrow-like button.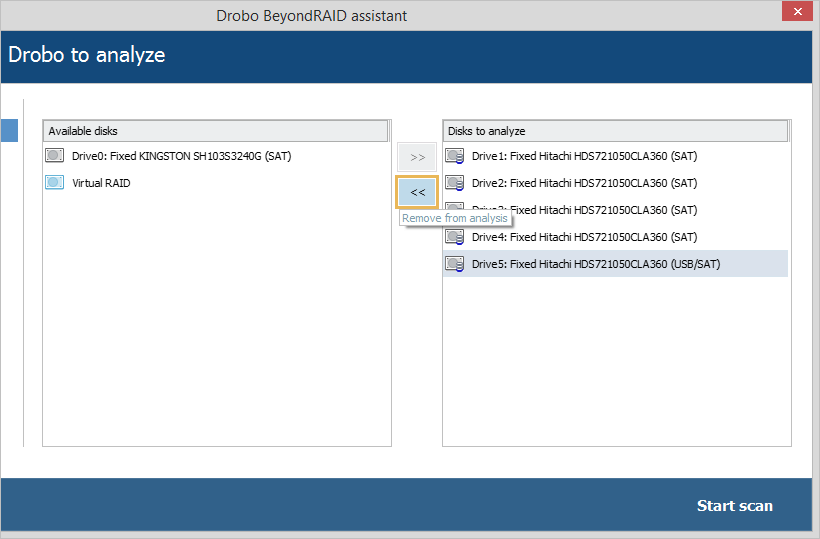 Once the required storages are chosen, initiate their analysis by pressing the "Start scan" button. After that, UFS Explorer will start searching for older fragments or copies of metadata tables that will enable the reconstruction of the lost virtual file systems. If needed, the procedure can be terminated anytime using the "Skip full scan" button.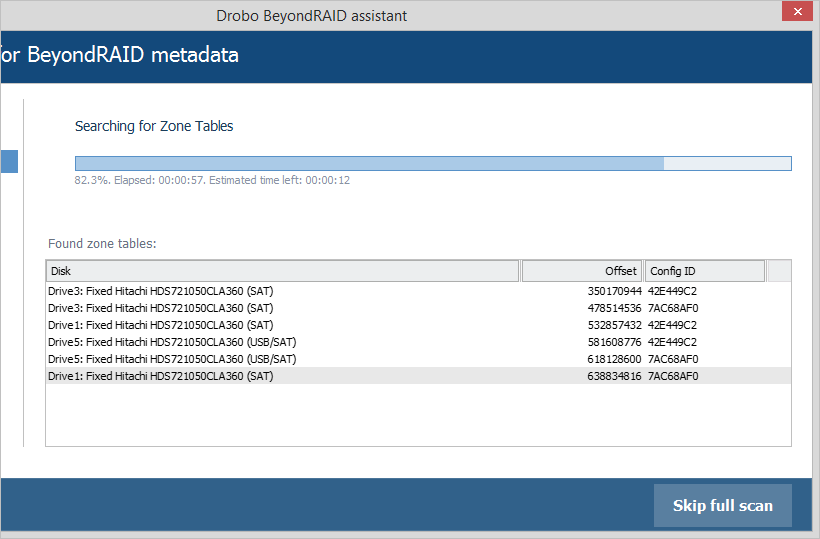 After the search is accomplished, Drobo BeyondRAID Assistant will display the extracted BeyondRAID configurations together with their details: ID, size of the allocated data, redundancy type, the number of components and their enumeration. The newer configurations can be found closer to the bottom.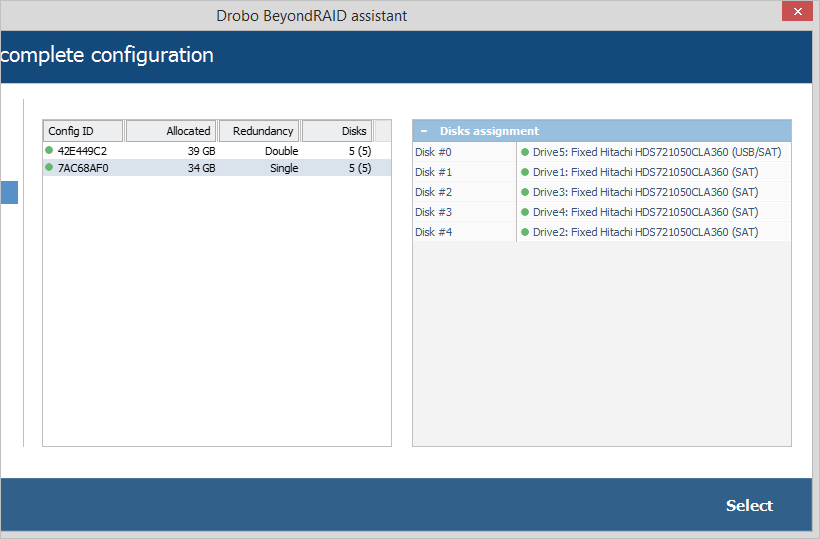 Choose the necessary configuration from the list and hit "Select".  The software will show the Drobo volume it holds.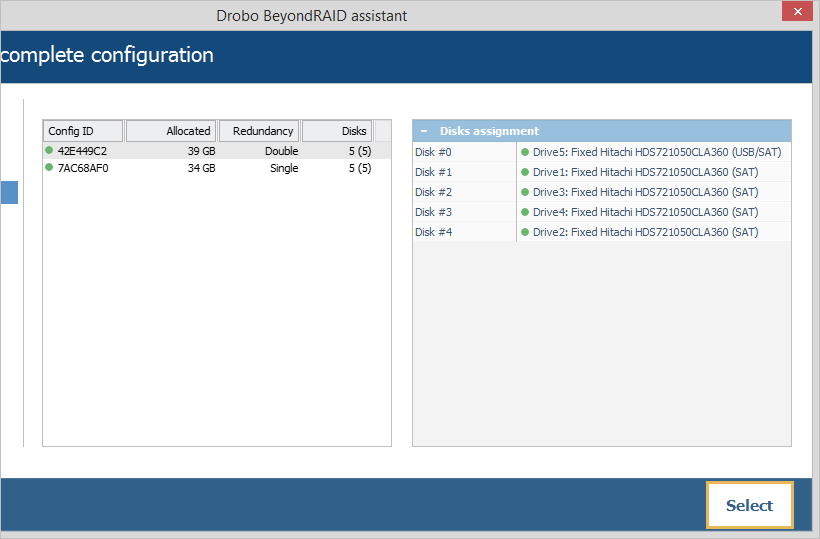 Click "Open", and the volume will be mounted in the storages navigation pane of the main program's screen. In case of an incorrect choice, you can get back to results right away without repeating the scan.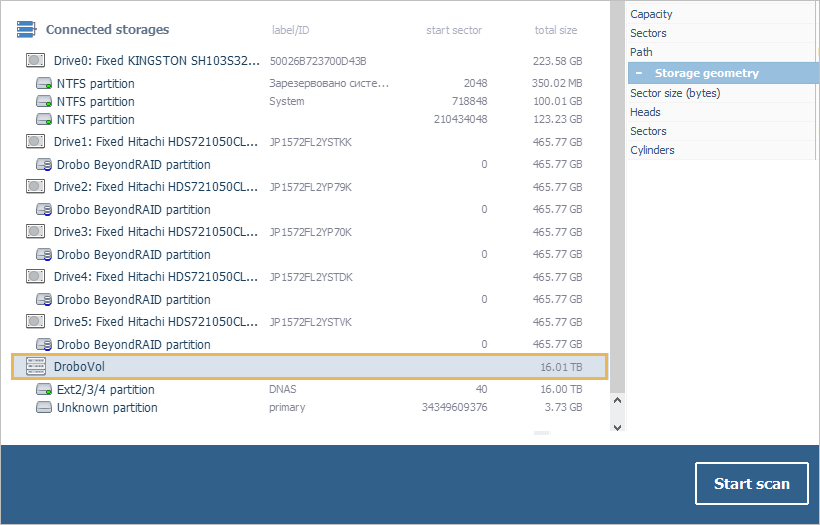 After that, you can work with the assembled Drobo volume like any other complex storage built in UFS Explorer.