UFS Explorer RAID Recovery
The application efficiently combines low-level data analysis and management with data recovery tools.
Data recovery for most cases

Fast file system state evaluation

Recovery from replaced file systems

Embedded RAID Builder

Optimal for NAS recovery

Usability extensions
---
Overview
With the set of functions of the UFS Explorer Standard Recovery, this software is complemented by the embedded RAID Builder tool for smooth operations on RAID storages of any level. UFS Explorer RAID Recovery allows users to build, edit and save virtual RAID configurations. Advanced software techniques enable building RAID systems not only from a set of physical disks but also from disk images. Moreover, the program includes the VIM-Import tool for importing Runtime Software virtual image files (.vim) for further operations. Increased software convenience provides effortless editing of RAID configurations. UFS Explorer RAID Recovery enables determining and setting the following RAID parameters: start sector, drive order, block size, etc. and modifying created configuration when necessary. In addition, the software includes hexadecimal viewer for brief data analysis on partitions and disks essential for creating a correct RAID configuration. You can save created RAID configuration as a file to any selected destination and later download it for further operations. The software manages automatic uploading of certain standard RAID configuration types.
The software is adjusted to work with file systems on disk images, virtual disks, RAID storages, etc. without the need for prior scanning.
See UFS Explorer in action
In addition to complex RAID systems, UFS Explorer RAID Recovery is applicable to other storages. You can recover files lost from your PC, USB flash drives, memory cards of your photo/video camera, external hard drives, virtual machines or disk image files. The software ensures safety of your data and storage by working in a read-only mode. This program doesn't require any prior technical skills and thus is perfect for both home users and for technical specialists dealing with RAID reconstruction and data recovery tasks.
Technical specifications
The software can be installed on Microsoft Windows, Apple macOS and Linux.
Supported host operating systems:
Microsoft Windows ®: Windows ® XP with Service Pack 3 and later
Apple macOS: version 10.7 and above
Linux: Debian Linux 6.0 (or compatible) and above
Supported host computer architectures:
Intel Architecture, 32-bit (IA-32, x86)
AMD64 (x86-64)
The software works with file systems of Windows (FAT, exFAT, NTFS), macOS (APFS, HFS, HFS+), Linux (Ext, UFS, XFS).
Data access and advanced recovery:
Windows: NTFS, FAT, FAT32, exFAT;
macOS: HFS+;
Linux: Ext2, Ext3, Ext4, SGI XFS, JFS, ReiserFS.
Data access only:
macOS: APFS, HFS;
Linux: Sun ZFS, Btrfs, UFS, UFS2, Adaptec UFS;
Novell NWFS, Novell NSS.
RAID support – virtual RAID building, reading and data recovery.
Recovery of complex RAID storages:
Automatic reconstruction of mdadm, LVM, Apple Software RAID, Intel Matrix
Support of most popular standard RAID patterns for RAID0, RAID1E, RAID3, RAID5, RAID6, RAID7, etc.
RAID-on-RAID support: RAID level 10, 50, 60, 50E, etc.
Support of custom RAID patterns via RDL or Runtime VIM
System requirements – supported OS, 1 GB RAM, 20 MB of free space.
any of the supported operating systems
at least 20 MB free disk space for software executable files
at least 1 GB RAM
Linux software version can run from most modern Linux Live CD
Recommended configuration:
64-bit edition of any of the supported operating systems
over 1 GB free disk space for program and temporary files
at least 2 GB RAM and 4 logical cores CPU
default web browser
Trial version limitations – there are file size and the Save function limitations in the trial version.
The software will copy files with the size below 768 KB only.
How to recover data with UFS Explorer RAID Recovery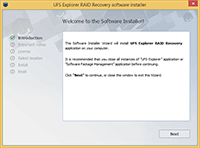 To install the program, download the installation file. Be sure to have minimal technical configuration to run the file.
If installation does not start automatically, browse the Downloads folder for the program setup file, usually containing the name of the software in its name, e.g. ufsxrci.exe. Open the file under root privileges or enter the administrator password, in case you are a simple user of PC. Start the installation by following the prompts.
NEVER download or install the software to the storage (drive, flash drive, RAID, etc.) you have lost data from. This can result to permanent data loss leaving no chances for recovery. In case of data loss from a partition, it is highly recommended to shut down the system and consider using UFS Explorer Emergency Recovery CD.
Read full setup instruction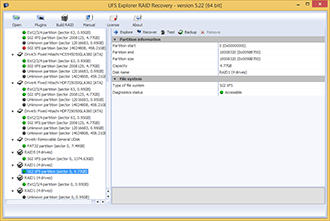 After launching the program, you will see the navigation tree on the left side of the tab where all detected storages will be shown, as well as partitions, disk images and complex storages (RAID). You can either choose the needed storage from this top-level structure or use the Open button. In case when you don't see the needed storage, press the Refresh storages button to reset the tree of the attached storages.
Further on, you can also choose specific files and folders if needed. Then, press the Recover button to start the process.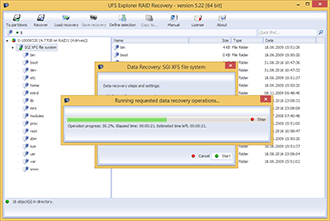 Before the exact recovery, the application will scan the chosen storage, which may take a while, depending on the volume of data stored and working speed. It's strongly recommended to save the scan result project for further work.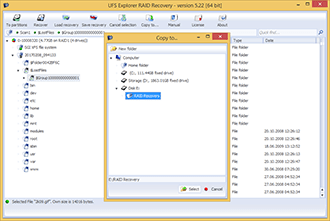 The final step is evaluating the scan results. The scan results show all files and folders available for recovery. The simple interface allows users to browse and copy files just like in an original file system, making the recovery procedure easy and fast. Users can preview the recovered files before saving to make sure that the results are satisfying their needs.
NEVER save the recovered files to the storage they were recovered from. The file data (contents) for recovery is still read from the source drive; this means the software may overwrite file contents making recovery impossible. Use another storage to save the recovered data.
Key features

Embedded RAID reconstruction tool
The software is complemented by RAID Builder, an instrument for assembling storages based on RAID technology. The instrument allows reconstructing standard Levels 0, 3, 5, 6 and JBOD as well as nested Levels 50 and 60.

RAID assembly from virtual disks
The software works with virtual environment as efficiently as with hardware. Therefore, assembly of RAID storages from a set of virtual disks and disk image files is also possible with this tool.

Perfect for NAS recovery
The embedded RAID Builder is an ideal tool for RAID-based NAS devices recovery. The software detects RAID metadata on NAS drives and suggests reconstructing RAID configuration automatically. The program supports most popular NAS devices, such as Buffalo Technology (TeraStation, LinkStation), Iomega, Synology, Intel, etc.

Hexadecimal data analysis
UFS Explorer RAID Recovery allows viewing contents of disks, disk partitions and files in hexadecimal mode. The in-built hexadecimal viewer may be helpful in defining RAID parameters such as drives order, parity distribution algorithm as well as in examination of the overall disk consistency.

Data recovery from assembled storage
The application offers a complete set of tools which enable recovery of data lost and deleted from a RAID storage. This includes tools for reconstruction of lost partitions, general system scanning and efficient data recovery with IntelliRAW rules.

Fits all types of storages
In addition to RAID, the software deals with all types of other data storages, such as hard drives and USB flash drives, virtual disks and disk images. You can use this full-featured program to work with any other device with the data loss problem.
Software testing and certification:


---
Windows version of UFS Explorer Professional Recovery has been tested to meet all technical requirements of compatibility with Windows ® 7 and Windows ® 8 operating systems.
When to use UFS Explorer RAID Recovery
Working with disk images and virtual disks
The software allows opening disk images and virtual disks produced by virtual machines of the leading virtualization software retailers. The software manages virtual disks and disk image files exactly as if they were physical disks and allows users to access or recover lost data from them.
Embedded RAID recovery
UFS Explorer RAID Recovery supports virtual reconstruction of RAID systems after controller or RAID metadata failure. The software virtually builds RAID and reads its files and folders as if it were a real physical RAID storage. The software easily handles both simple RAID configurations and complex RAID. The RAID-on-RAID feature allows to build RAID configurations of high complexity.
NAS recovery
Embedded RAID Builder is an ideal tool for recovery from common NAS devices. UFS Explorer recognizes RAID metadata on NAS drives and assists in virtual RAID reconstruction automatically specifying the order of drives, RAID level, stripe size, etc. The software does not require a separate license for RAID module and thus allows evaluating entire data recovery process using a trial software copy.
Comprehensive files recovery
The set of tools included in the software provides solutions for most common data loss cases, including file system formatting and accidental deletion. Even if the metadata is lost permanently, the program can predict file allocation basing on file system specifics and file content analysis to produce maximally successful data recovery results even in severe data loss cases.