General overview of QNAP NAS products
QNAP is widely recognized for its quality networking products. The NAS model line of the brand includes devices for any purpose and budget, from personal needs to building enterprise-level systems. Read on to find out more about these appliances and their distinguishing characteristics. The data organization peculiarities, common data loss issues and the QNAP NAS recovery process are further described in the corresponding articles.
QNAP NAS model types
QNAP offers a wide selection of NAS devices to meet a whole spectrum of user requirements. They range from small single-bay boxes all the way up to massive 30-bay units.
The tower form-factor is more typical for QNAP NAS employed by households and up to midsize businesses. Such models are compact enough to sit on a desktop and can house from one to as many as 16 drive bays. The standard bay design provides space for 3.5-inch SATA hard and solid-state drives, while 2.5-inch ones can also be mounted using special holes. In contrast, all-flash towers may be equipped with 2.5-inch bays alone, that accept SATA or U.2 NVMe SSDs. Certain models may also feature additional slots that make it possible to install M.2 SSDs.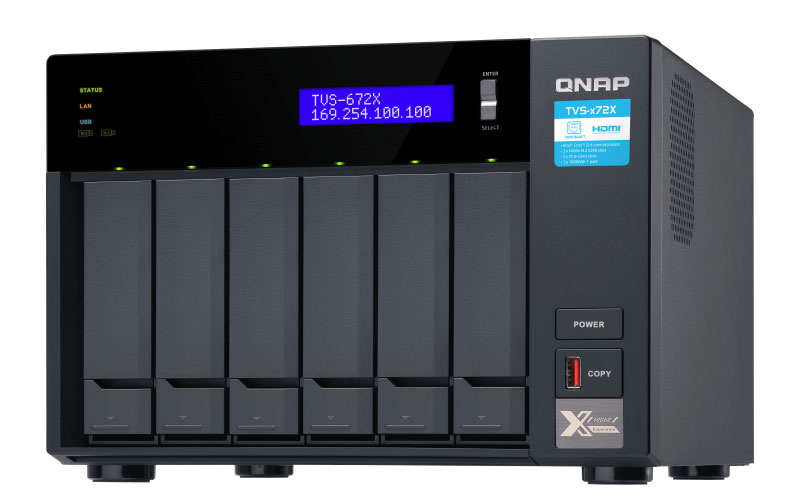 Pic. 1. Tower QNAP NAS.
The rackmount layout is intended mainly for enterprise usage. Such models have from 4 to 30 drive bays and can measure 1U-4U in height. Designed to provide server-grade performance, these appliances also have much higher noise levels. They are usually installed into a server rack using special sliding rails. The drive compatibility is mostly analogous to that of tower units, but some upmarket devices may additionally support SAS drives. Moreover, their functionality can often be upgraded, for instance, using a SAS expansion card. The latter can host multiple expansion devices, providing the possibility for a substantial enlargement of storage capacity.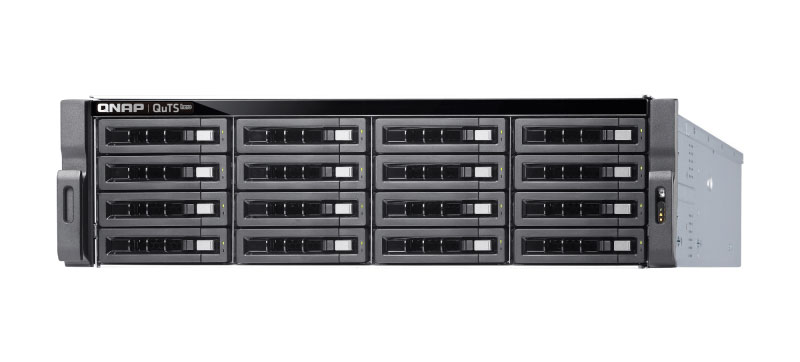 Pic. 2. Rackmount QNAP NAS.
There are also some home QNAP NAS devices with a set-top design. They are characterized by a very low level of noise and great space efficiency. The number of enclosed drives is normally 2 or 4, while the bays are compatible with either the SATA or the M.2 interface.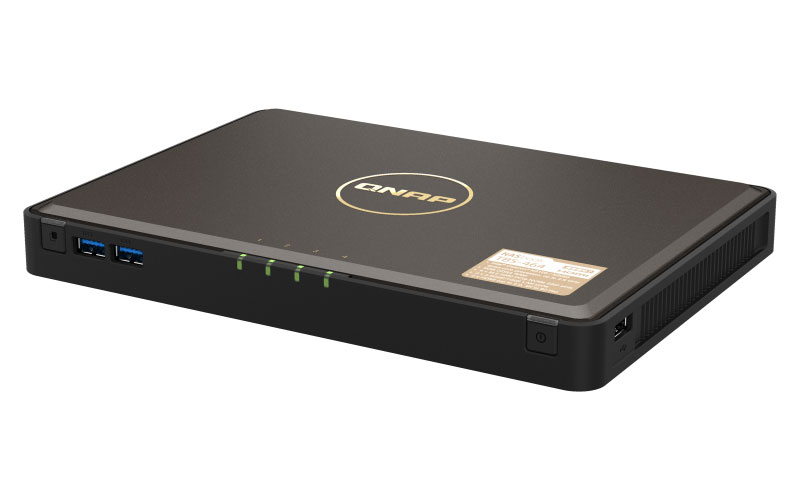 Pic. 3. Set-top QNAP NAS.
Certain high-end models of QNAP NAS can be combined with an expansion unit. Also referred to as an expansion enclosure or chassis, such a device allows adding more drives to the existing NAS system. They are produced in the tower and rackmount variants and connect directly to the NAS via USB, Mini-SAS, Thunderbolt, or other cable type.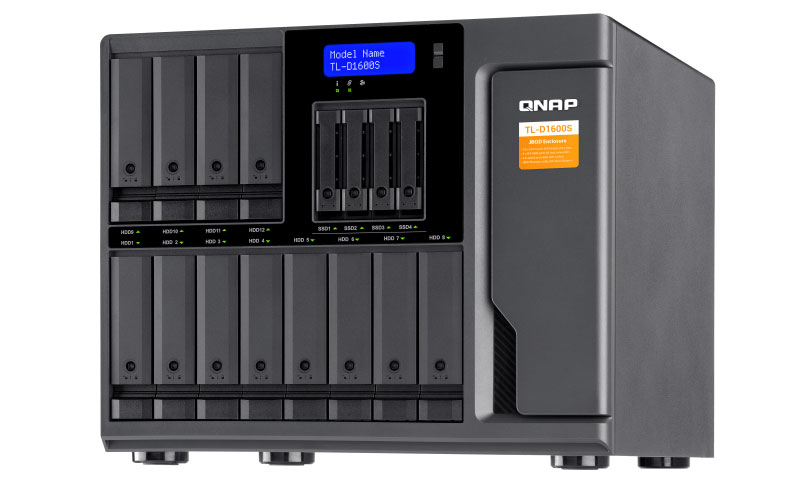 Pic. 4.  QNAP expansion unit.
The company has a particular naming convention for the appliances to keep the model name as informative as possible. The first 2-4 letters define the chassis type. TS stands for Turbo Station, the primary storage product series of QNAP, and may indicate any regular NAS enclosure able to accept both 2.5-inch and 3.5-inch drives. TVS models support both drive dimensions as well, but have superior technical characteristics optimized for virtualization or some other tasks. In contrast, SS units are based solely on 2.5-inch drives. HS denotes silent NAS solutions that don't have in-built cooling fans, while IS implies an industrial-grade NAS design. The 1-2 digits after the letter code show how many drive bays there are inside the casing. The next several digits refer to the product series, a higher number means higher hardware specifications. The letters at the end of the name may refer to different aspects. For example, U points out that the device is rack-mounted, SAS – supports the SAS interface, X – comes with 10 gigabit Ethernet (GbE) connectivity, T3 – has Thunderbolt 3 connection, and RP – is equipped with a redundant power supply unit.
Operating systems of QNAP NAS
The majority of QNAP NAS models run the proprietary operating system called QTS. It is a lightweight Linux-based platform that has been around for more than a decade. All of its modern versions employ the Ext4 file system, though older ones offered the choice of using Ext3 or Ext4.
The OS features a smartphone-like interface and is easily accessible from any modern web browser. Out of the box, it provides a set of built-in utilities sufficient for managing NAS settings and performing most of the tasks. QTS also contains App Center, which offers a wide selection of downloadable applications for its customization.
QuTS hero is a relatively new operating system of QNAP. It is almost identical to QTS, but has been adapted to work on the basis of ZFS and make the most out of this file system. The benefits of its implementation include optimized performance, stronger data integrity protection and more storage configuration possibilities. At the same time, the two operating systems are equal in terms of software package support.
The third OS called QES was introduced in 2016. It employs the ZFS format as well, but is based on the FreeBSD kernel and aimed exclusively at enterprise-class systems. Its functionality is focused on efficient deployment of all-flash solutions, virtual machines and cloud applications. The user interface has been designed to resemble the primary QTS operating system, yet, the lack of compatibility with certain software packages may narrow down the possibilities for its usage.
QNAP NAS features
QNAP NAS appliances integrate plenty of technologies that let them stand out from the rest of network-attached storage systems. However, please mind that some features may not be presented in all models.
To begin with, QNAP units of most configurations support hot-swap and online storage expansion. These features make it possible to remove and install drives into the unit without powering it off. For example, a RAID member drive that has failed can be replaced, or lower capacity drives can be changed for higher capacity ones, and the array will be rebuilt while the system keeps running.
Secondly, the utilization of available storage capacity on QNAP NAS can be optimized with the help of thin provisioning. In this case, the space for volumes is not allocated up front, prior to their use. At the very beginning, a volume may occupy a very small amount of room that will increase when more data is written to it. The free blocks of storage do not belong to any particular volume, but can be assigned to it as soon as the need arises.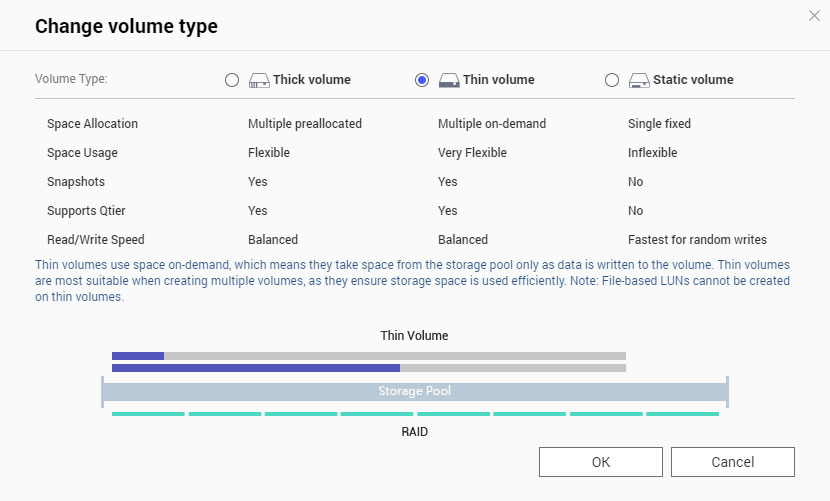 Pic. 5. Thin provisioning on QNAP NAS.
The storage performance can also be accelerated with the help of the SSD caching option or the automated tiering mechanism referred to as Qtier. SSD cache resides on a faster solid state drive and, depending on its type, is used as a primary storage device to write all the new data (write cache) or just to store copies of the most active data in order to speed up its future reading (read cache). The Qtier technology moves data between the appropriate SSD or HDD media automatically, based on the access frequency.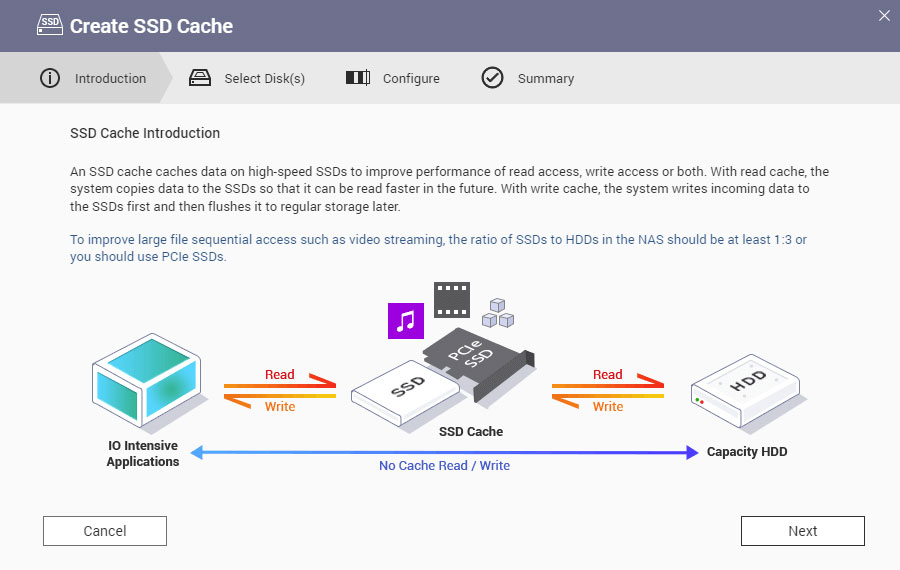 Pic. 6. SSD caching setup on QNAP NAS.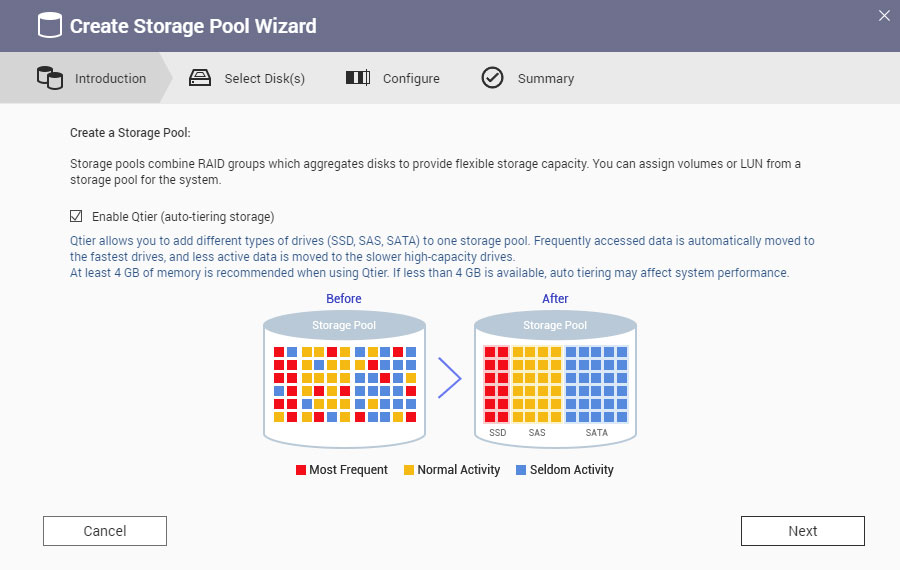 Pic. 7. Automated tiering setup on QNAP NAS.
Moreover, certain types of QNAP volumes support block-level snapshots. When created, a snapshot records the state of the data at the given point of time and allows reverting any changes made to it afterwards. Unlike backups, snapshots contain copies of metadata entries related to where each block of data is stored. While the current metadata gets updated to reflect the change, the snapshot stores enough information to bring it back to this state in case of any issues.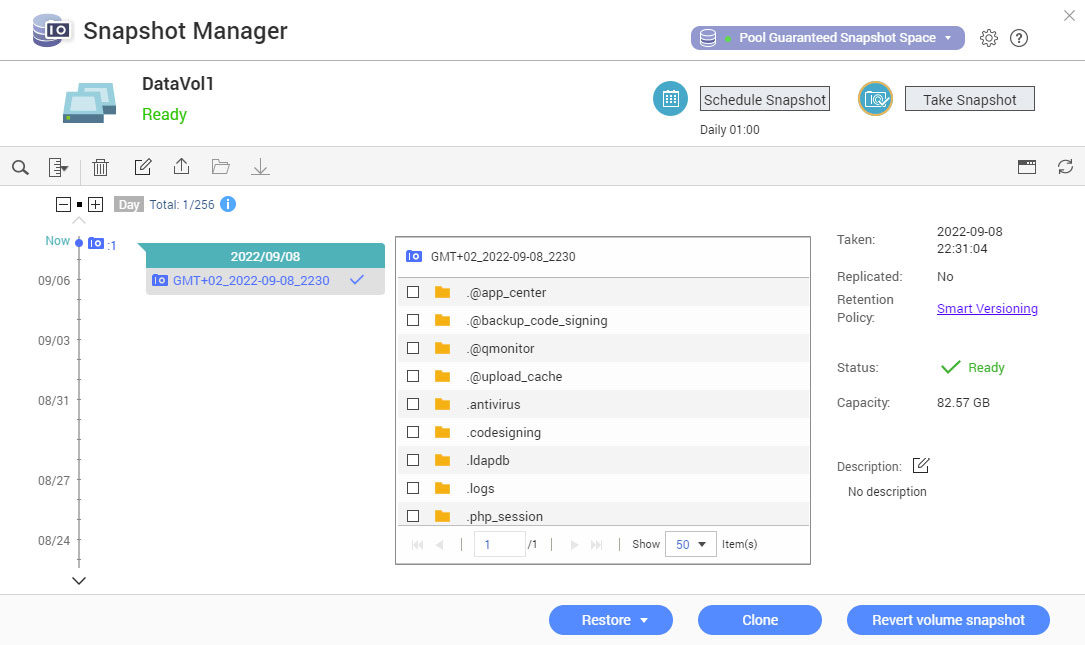 Pic. 8. Snapshots on QNAP NAS.
Furthermore, most QNAP models support volume encryption. QNAP encryption relies on the LUKS standard and uses the 256-bit AES algorithm. The encryption key is generated based on the 8-32 character password specified by the user. It can be downloaded and saved to a file with the *.key extension when encryption is set up or anytime later. The encrypted volume can be unlocked either by providing the original password or by uploading the exported key file via the user interface.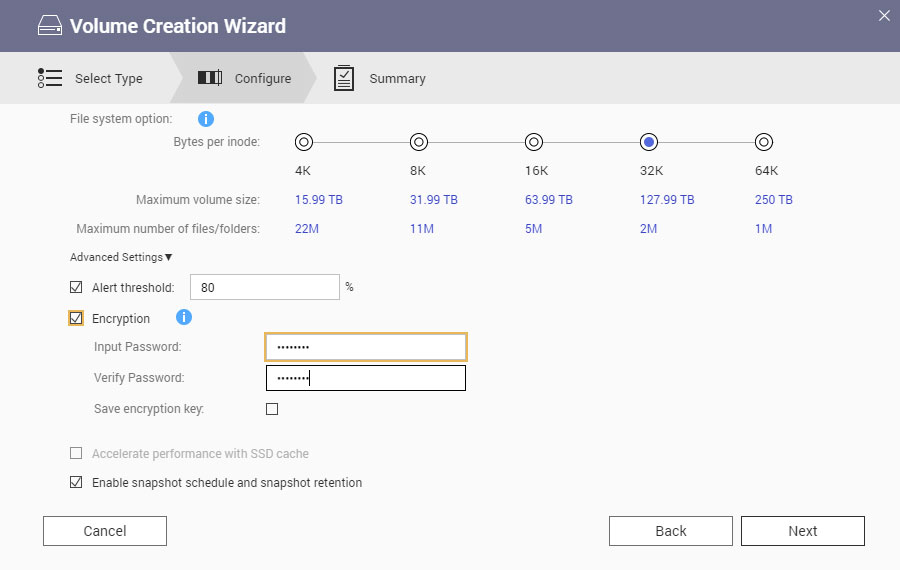 Pic. 9. Volume encryption on QNAP NAS.
The iSCSI target feature integrated into most QNAP NAS models make it possible to turn the device into an iSCSI target server and utilize it as a network shared storage within a virtualized environment. After the target and the LUN are set up, the storage can be accessed remotely using an iSCSI initiator, just as if it was an ordinary local drive.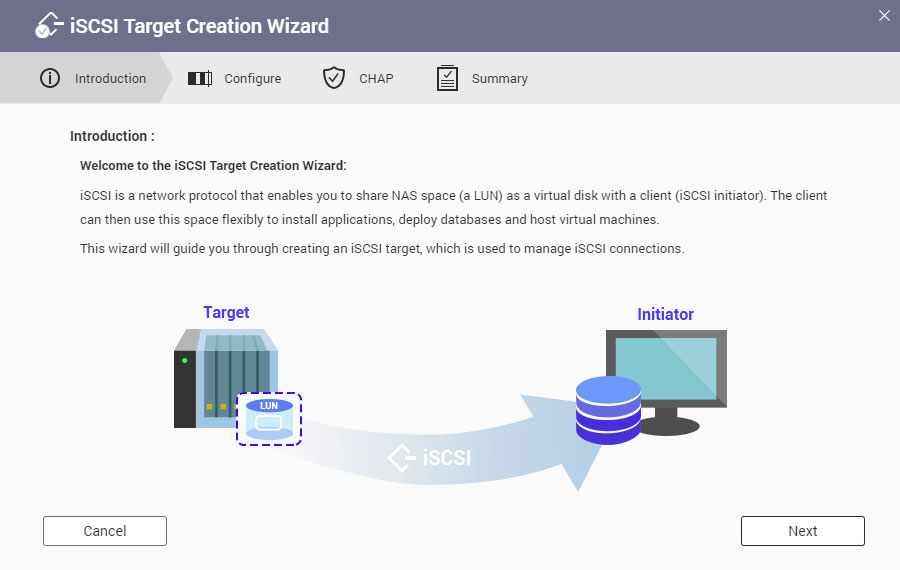 Pic. 10. iSCSI target service on QNAP NAS.
The video surveillance feature of QNAP NAS allows using it as a security appliance. When combined with supported IP cameras, the NAS unit can record video from them to its drives and makes it possible to watch the recording in real time using a web browser or a display connected via HDMI. Additional options, such as alarm notifications, scheduling, monitoring modes, etc. can also be configured.
The video transcoding feature enables QNAP NAS to convert video files of different formats to a standard format suitable for other devices, for instance, mobile gadgets or TV-sets. Transcoding can be performed on-the-fly while the video it is viewed, or in advance to avoid potential high CPU usage.
Please refer to the respective article to obtain more information about data organization, common data loss issues and the process of data recovery on QNAP NAS.
Last update: September 27, 2022