How can one recover data from a USB flash drive?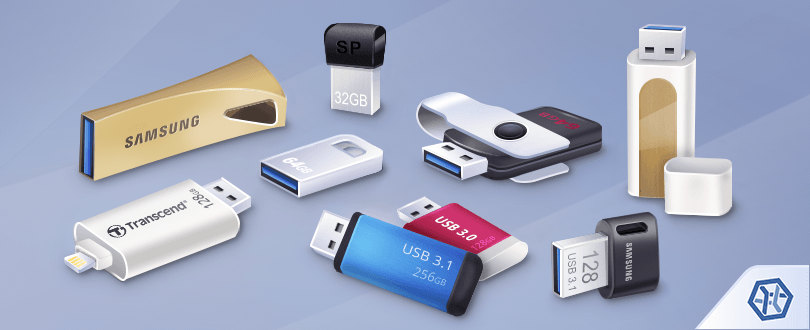 Despite their small size, USB flash drives offer plenty of storage space to keep massive amounts of data and make it incredibly easy to transfer it between different computers owing to the ubiquity of USB sockets. Alone with much higher privacy, security and availability than any cloud service could ever offer, they can also be read by many other electronic devices such as music players, game consoles, digital photo frames, projectors and smart TV. Though this type of digital media is considered fairly reliable, the valuable information it is trusted with may be still put at risk, as improper operations or other issues with the drive may make it corrupt, saying nothing of that the files deleted from it are immediately removed and cannot be found in the Recycle Bin/Trash. Fortunately, when there has been no physical damage to the device, one can restore the lost data with a high probability.
Note: Unsafe removal of a pen drive from the computer can provoke both logical and physical problems. In case of physical damage, data recovery is possible only by a skilled and properly equipped service provider. DIY-repair efforts pose a risk to destroy the storage.
Recover files from a USB flash drive formatted with FAT (exFAT) or any other file system of Windows, macOS, Linux, Unix, BSD
In fact, it doesn't really matter whether the files were deleted from a jump drive or the OS is not able to find and recognize its file system, the actual data doesn't vanish from the storage and can be easily brought back by a data recovery program. Still, beware that such a software can only regain the information which has not been overwritten, therefore, you should stop using the drive as soon as you realize that data loss has taken place and avoid saving anything to it, including the recovered files. Also, there are several other situations when the chances for a successful operation are very slim:
low-level (full) formatting resets the drive to its factory defaults thus wiping the whole content of a storage – the file system and the data;
some operating systems deploy "delayed writing" – a file may not be immediately written to the drive but wait until other operations will be completed. Abrupt disconnection of a drive irreversibly erases all the information pending to be written;
file shredding utilities write zeros or some other data patterns over the files making them unrecoverable;
pen drives protected by encryption software, like BitLocker To Go, become utterly inaccessible after the loss of an encryption key.
In other circumstances, SysDev Laboratories recommends UFS Explorer and Recovery Explorer as reliable data recovery solutions suitable for a wide variety of data loss scenarios, including the ones related to thumb drives managed by FAT (exFAT) or any other file system of Windows, macOS, Linux or Unix/BSD. The programs perform an extensive analysis of the drive's logical structure to locate the missing files and offer the user to copy the restored data to any safe storage.
Note: Before making attempts to recover data, try inserting your pen drive into another PC to ensure that the problem was not caused by incompatibility or a defective port.
In order to accomplish USB flash drive recovery using the Standard edition of UFS Explorer, take the following steps:
Download and install the application onto the computer. Ensure that the version of the program fits the operating system your machine is running.

Launch the software and, if needed, change its settings in the corresponding pane.

Plug the USB flash drive into the computer's USB port. If possible, opt for USB 3.0. rather than USB 2.0 – this will substantially speed up data access/reading/scanning operations. Turn on the power switch, if available.

Warning: Once attached to the computer, your thumb drive may throw an error or ask for a format. Don't try to fix anything until you finish up recovering data. This may lead to serious difficulties or even permanent data loss.

Select your USB flash drive in the list of attached devices in the left pane and scan it for lost data using the corresponding button or the storage context menu option.

Set up the preferable scan parameters. If you know which file system type you deal with, deselect the superfluous ones. After that, press"Start scan" and wait for the process to complete.

Browse through the file system reconstructed by the program: you may sort the files by name, date, type, employ quick or advanced search and preview them in the embedded viewer to decide on which ones you needed. After that, click "Define selection" and check off the items you want to copy.

Choose a destination folder for these files. Make sure you are not copying them back to the problem USB device.
Last update: June 19, 2019